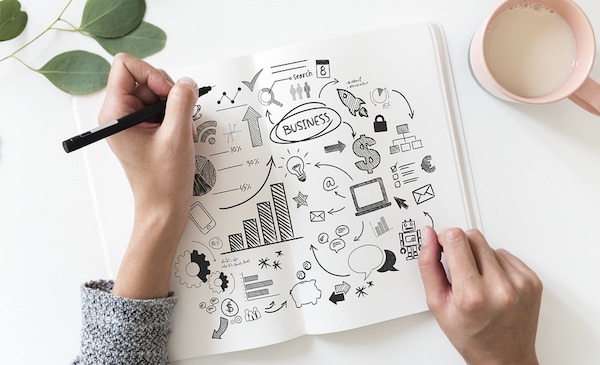 Elevating startup growth is definitely in the cards for most founders, and there are a number of ways to accomplish this goal. One of the most important with a heavy focus on long-term growth is boosting brand awareness. Regardless if daily operations are still happening in your spare bedroom or garage, your startup is in fact a brand.
Building a brand is not simply an exercise new businesses need to do. It is a journey creates a foundation of all your other efforts will be built upon. For instance, you begin with your brand's core identity (character, attributes, mission), and work your way outward from there. Why? Because your core identity will give you the assets to communicate your brand with customers, your team, and the world.
"Brands are psychology and science brought together as a promise mark as opposed to a trademark," startup founder Scott Goodson explained in a Forbes article. "Products have life cycles. Brands outlive products. Brands convey a uniform quality, credibility and experience. Brands are valuable. Many companies put the value of their brand on their balance sheet."
Brand promotion plays a major role. It allows startup founders to crack the code and reach a target audience in the fastest and simplest way. What is brand promotion exactly? It is a number of things. It is TV, radio, and community news placement, social media marketing, swag giveaways, and much more.
The following three brand promotion tips can serve as your quick guide to building a powerful startup that allows easy communication to your target audience. Let's dive in!
1. Don't shy away from brand promotion swag.
There is a reason why companies that deliver pens and hats with business logos plastered on them still exist. It works. When it comes to communicating your brand to your customers and team, swag is a stellar option. What type of brand promotion swag is trending? Branded products that engage someone in a unique way with a slice of personalization.
There's a reason why Starbucks has those city themed coffee cups for sale in every store, in every country. You can do the same with cool brand promotion items along the same lines. Right now, custom pint glasses are trending, especially in the startup culture. You can get pint glasses in your brand colors with your logo, and there are some pint glasses that are Earth-friendly.
2. Let your customers in with a great startup story.
Did you know that consumers engage with more personal connections when it comes to the brands? This shift in consumer behavior is important to understand and consider when communicating your startup message, products and/or services. Why? Consumers are constantly bombarded with generic ads wherever they land online, from social media to a simple Google search.
"In a world where buzzwords like Pay-Per-Click (PPC) and banner ads have become commonplace, it might be easy to overlook the fact that generic, targeted online advertising doesn't convert in every industry," Ahmad Raza of Business.com noted.
To deliver a personal touch, make your startup a transparent experience that lets customers in on a deeper level. The days of, "We are the best, fastest, cheapest" are over. Develop a very in-depth "About" page explaining your journey as an entrepreneur, your startup's inception, and the reasons why you created the product and/or solution you did. Let your customers in and they will repay you with loyalty.
3. Get even more social with your startup.
Your startup probably already has a social media presence, and you are most likely posting consistently. This is great, but not the be-all, end-all for elevating startup growth. Remember, everytime you communicate with your audience there needs to be an element of brand promotion in the recipe. This makes having a brand promotion strategy for social media critical.
For example, develop a very detailed branding plan for social media that covers every vertical and value proposition your startup has. Then tailor your social posts to the audience that the vertical and value prop applies to. If you have a solution for email marketers, tailor that social post for them with a buyer funnel approach (awareness, evaluation, conversion).
Wrapping up…
The above brand promotion tips are among the most important, as well as the easiest to implement into your current startup workflow. You may be considering branding lately, but don't wait too long to make brand building and promotion a priority. Your competitors are most likely not. Do you have a brand promotion tip? We want to hear from you.