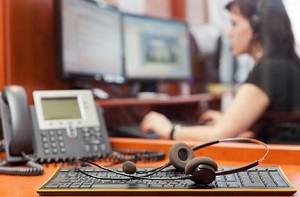 On hearing the word 'customer helpdesk' we tend to visualize a person addressing customer queries via emails.
But things have actually changed now.
Most people would rather prefer going via self-help software or instant messaging to resolve their queries. Of course, there are more ways than one in this regard. If you run your own startup then scoring high on customer support will help you stay ahead amidst tough competition. Installing a helpdesk software can best facilitate this.
The most common perception is that a software application to address customer queries is only useful to giant corps, but the fact is that this software streamlines operations easily, thereby offering a better customer experience.
If you are still undecided, here is why you must install a help desk application for your company.
Stay connected from the central hub.
With the installation of this software, you would get to enjoy multi-channel helpdesk. It implies the integration of various communication mediums like Email, chats, Facebook and webs requests into support tickets all organized and located centrally. Although email support is the frequently applied support for most startups initially, changing to a dedicated email helpdesk system might not be convenient for your staff and also some of your customers.
Although some customers might prefer the traditional way of communicating via email and they can continue to do so under the hood of your customer support.
As for the tech-savvy ones, they can wish to interact with you and review your business through Facebook and Twitter posts.
This will further help you to maintain good relations with your customer and obtaining the trusts of new customers.
Motivate your employees.
Working in the department support can be a non-thrilling and in a word, boring experience for your employees and unless you motivate them on a regular basis, the business will get stagnated. Although during the first few months, the customer support will be handled by one or a few members of your startup with development, you need to hire or outsource individuals. Soon you will find it getting a bit chaotic and if you don't secure control of the situation you will soon be facing losses.
Now a help desk software would help you to plan quests and achievement levels for your startup so that they enjoy working over here not just for the sake of getting paid.
Handle multiple products and departments simultaneously.
If you have just laid the foundation of your startup you would understand the importance of handling several brands or products together from the same location. A time will come when you will be flooded with ticket requests from various products and services together, leading to the need for prioritization of the requests. With the software, you will be able to manage different requests by offering separate branded support for each one of your products.
As you can see, if you decide to install software from the initial days of your startup, not only will you be able to keep your customers happy, but also distribute the volume of queries among all the employees equally.