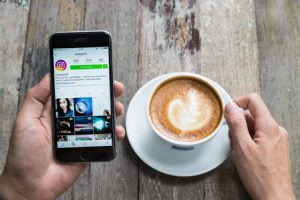 Did you know that in a day a person spends 1.72 hours a day on social media platforms? With this information, one would be able to make proper use of your Instagram and engagement through brand awareness, boosting sales using informative channels. Instagram having being adored by the hearts of many could be the breakthrough you have been looking for all those years. With over 700 million monthly users, Instagram is an untapped source of opportunities.
Here are some tips that can help one find their way around Instagram and help in growing their brands.
1. Develop Your Brand's Narrative.
If you are great at telling stories, then you have your work cut out for you. This hack is a sure way of wowing followers. Some of the biggest brands use narratives as a captivating trick in connecting to different audiences. You can do this by using imagery to speak to your followers. By posting content in the form of pictures, you will be able to get people's attention, thus, getting a bag of likes and suggestive comments in your feed. The point of deriving a narrative is to give people a sense of what your brand is all about. This action will familiarize your identity to peoples likening
2. Close Monitoring Of Your Social Media.
By monitoring activity on social media, you will not only engage in conversations but also build a robust sustainable relationship with followers. Dialogues enhance good customer relations especially when your Instagram is business oriented. This act will maximize your social media reach as quick responding assures followers you can be depended on. Business owners will notice significant growth in sales and acquisition of new customers.
3. Make Use of Apps That Relate To Instagram.
Most of these emergent apps are used to refine posts before finally sharing. Many users use Instagram as an amusement app where pictures are uploaded with the aim of getting likes and lovey-dovey comments. Photos with more exceptional touches gain more likes and generate conversations. Many brands, (such as beauty shops and bloggers) use these apps to make their photos more appealing. Facetune, VSCO, SKRWT are among some of the many apps that help in photo editing and enhancing.
4. Post Less.
Here we look at quality being better than quantity. This factor might not sit well with other Instagram users. One well-taken photo is better than 50 average images. One is advised to develop one or two great posts that are mouth-watering to the followers.
In conclusion, to master Instagram, you have to stop the ordinary and focus on the extraordinary. Brands nowadays have resolved to Instagram to push their content out there, with more embarking on ways to increase your social reach and growth such as:
Conducting social media contests
Sharing captivating content
Guest posting
Maximizing marketing strategies
5. Have a Unique and Driven Mentality.
Instagram is on the verge of hitting the 1 billion users mark; posting good photos is not enough to cement your legacy. Having your own sense of style will help in the long run. One is encouraged to start small and work their way to the top by building good relations by engaging in one-on-ones. Businesses should push good content into the market and be able to identify the tastes and preferences of the audience. They can do this by:
Uncovering targeted hashtags
How often to post
Use of customers as branding ambassadors to gain more popularity
6. Find Your Ideal Posting Times.
Instagram is useful when people get to see your posts: thus, it is crucial to be posting when the majority of your audience is locked on the screens. One tends to have better follower engagement rate on posts when your followers are online. Those using Instagram Business Profile can determine the best times to post new content as it shows the most active hours of your followers.
7. Variety in Posts.
It's good to spice things up a bit on your Instagram. A mixture of posts could give different and decision-making responses from followers. Variety will help in deciding which content is best suited for your audience. Many likes and comments will help your account gain more followers by reaching new audiences and promote your brand to be recognizable.