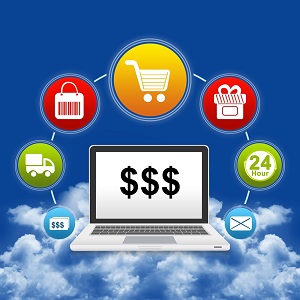 Thanks to the Internet, businesses have successfully learned to sell products and services online. Being connected through technology has brought about a new consumer market: a digital one.
Still, there's a lot to navigate when it comes to optimizing sales in a digital marketplace. Everyone has a website these days, and some online markets are overly saturated. If you're a risk-taker, you might have what it takes to excel in the eCommerce industry.
After all, the eCommerce industry is shaping up to be a competitive one. In 2017 alone, the United States generated over $446 billion in online sales.
Such a large industry might be overwhelming, but don't worry. You have what it takes to succeed.
If you're ready to launch an eCommerce business, you're in the right place. Detailed below are ten eCommerce business ideas for you to consider.
If you stick with it, you'll see a profit in no time.
1. Social Media Management Services.
This is perhaps the most popular eCommerce business to invest in. As we approach 2019, you should seriously consider if you have what it takes to develop a social media management service.
Businesses of all shapes and sizes need social media. In fact, it's almost impossible to succeed without social media networks these days.
By offering these services, you'll be providing the solution to something everyone needs. It's a great way to ensure your business will stay relevant throughout the coming years.
2. Beauty Products.
It's no secret that the beauty industry is thriving. The world of social media promotes self-care and vanity on many levels. Take advantage of the beauty industry's large consumer base.
You can sell specific beauty products, too. Consider specializing in eco-friendly products, for example, which are becoming popular.
3. Specialize in Industrial Equipment.
Perhaps your background is in the industrial or manufacturing world. The good news is that you can still build an eCommerce business from that experience.
Check out the website for Able Sales, for example. Their eCommerce is directed at large industrial companies who need varying equipment. No matter what market you choose to break into online, you need to know the ins and outs of the industry ahead of time.
4. Technological eCommerce Business Ideas.
You can definitely count on the continued development of technology. If you like tech and gadgets, eCommerce business will suit you well.
There are all kinds of technology blogs online today. You can specialize in reviewing specific gadgets that are new on the market. For example, there has been a recent development in drones and dashboard cameras you can research.
5. Website Development and Design.
Speaking of technology, don't forget about the Internet itself. It seems as though everyone's connected to a digital device in one way or another. Many businesses are going to learn that they need a high-quality website.
Well, there's a lot to consider when navigating website development. Do you have what it take to actually code the website architecture? Perhaps you're more interested in the aesthetics of powerful website design.
You can even become an expert in search engine optimization (SEO) content. There are a lot of things that a good website needs in order to boost a business's online presence. If that's something you're interested in and capable of doing, don't hesitate.
6. Online Coaching Services.
For the record, your eCommerce business doesn't need to sell actual products. You can sell consumers other things like education or even inspiration.
Perhaps you are knowledgeable in a teachable skill. Many people have succeeded in developing coaching businesses. They've taught all kinds of things from fitness programs to foreign languages.
You can even coach people more directly on whatever goals they're experiencing in life. In fact, you can even coach fellow entrepreneurs like yourself on their business ventures. For example, you can encourage them to draft worthy resolutions for the new year.
Don't be afraid to get creative when you're choosing an eCommerce business. You need to work with something that inspires you to stay committed long-term.
That's the best chance your business will have at surviving the competitive digital marketplace.
7. Home Decorations.
If you have a passion for home decoration, you're in luck. It's easy to sell all kinds of such products through an online business.
All you need are products you can rely on. When you have a stock that you've curated, you can find the clients who would be interested.
Don't worry – home decoration has a large online consumer base. If you're willing to put in the work, you'll find many people who want to buy from you soon enough.
8. Write and Publish E-Books.
As mentioned above, you can definitely sell your expertise about a particular topic or niche. If you don't want to develop online courses or training services, you can just publish E-books. There are E-books about almost everything these days, so choose this route if you don't mind writing a lot.
9. Software and Applications Testing Services.
If you have an eye for useful software solutions, you're in luck. Plenty of consumers would appreciate your services. Testing all the new software services is a great way to get people to trust your judgment and continue seeking it out.
10. Travel Writing.
The last eCommerce business idea is for anyone who travels a lot. Put your travel knowledge to use by developing all the travel advice you can think of. Tourists will start to flock to your sites if it answers their questions well.
Resources for Your New eCommerce Business.
At this point, you should have a pretty good idea of what eCommerce business ideas make sense for you. Don't be afraid to choose a business that you're passionate about. Your business deserves your attention and your time.
If you're ready to launch this new venture, don't start underprepared. Make the most of the resources available to entrepreneurs like yourself.
That's why we're here to support and encourage your business ventures. We want to be there for you every step of the way as you navigate the digital marketplace. That's why we encourage you to check out our resource archives for entrepreneurs today.