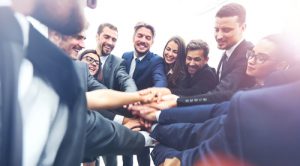 Brexit. It's a word that we hear so often, and rarely in a positive way. With a withdrawal deal still very much up in the air, business owners all over the UK are wondering where they stand.
If you are worried about how your team will hold up in the coming months and years, it could be time to invest some time and money into some team building activities to really strengthen workplace relationships.
Brexit is set to affect every business.
With Brexit just around the corner, business owners are facing a lot of uncertainty. From stocks and shares to medical supplies, from food to property prices, it seems as if every industry is affected by it. It doesn't matter if you run a multi-million-pound enterprise or you're only just getting a company off the ground – it's natural to feel a little worried. With 2019 set to be a big year, it's vital that your team are ready to tackle it head on.
Strong teams are needed now more than ever.
Strong teams are needed in tough times, but those tough times are when people are going to be lacking in confidence and motivation. Brexit is one of those landmark events where everyone is going to be feeling nervous, whether they are a UK national or an EU citizen. If your workforce is made up of people from all over the world, tensions could arise. So to boost morale and promote unity within your staff, invest in some team building. Theresa May could certainly do with some positivity in her Cabinet right now!
Benefits of team building.
There are so many benefits to team building. It gets everyone working together, and if there is one thing that a company needs in post-Brexit Britain it's a strong focus on collaboration and communication. Team building activities also help people to become more confident, and you may find that those who aren't typically leaders in the work place really step up and find that inner belief. Plus, it really helps with productivity and working under pressure.
Have fun while you build for the future.
There's a misconception that team building events are overly corporate and full of cliches, but that really couldn't be further from the truth. Zing Events team building company, for example, are totally changing the way team building days work, and offer a huge range of activities for all kinds of businesses. You can take your pick from creating cocktails, making pizzas, completing treasure hunts and even investigating a 'crime scene'. That's about as far away as you can get from a boring boardroom!
Start bolstering your team now.
By investing in some team building activities now, you'll be able to end the year on a positive note. There's no predicting how Brexit will turn out, but by taking some steps to build a strong team you'll be much better prepared for whatever our exit from the European Union brings. So why not arrange a team building day as a special end of year treat for you all? It'll be a great way to unwind, have fun together, but most importantly of all, lay the foundations for a strong future for your business.