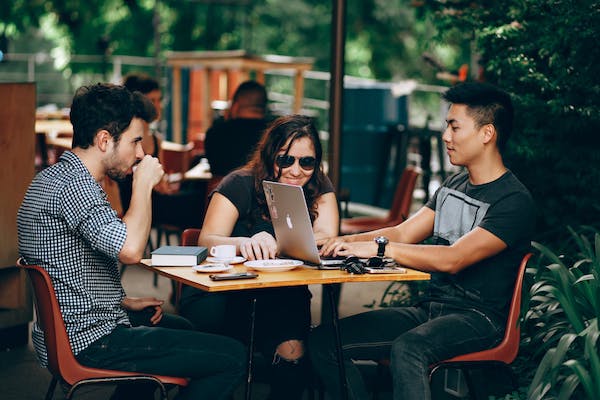 by Saeju Jeong, CEO and Co-founder of Noom Coach
Many friends who start a new business together often end up going their separate ways, leaving the company to collapse and the relationship to turn sour. However, this isn't to say that a partnership – and new business – can't last if handled correctly.
I should know – I've done it.
Ten years ago, I decided to launch a weight loss program with my best friend, Artem Petakov. Today, our program, Noom, is a bonafide health empire that's helped over 47 million people live longer, healthier lives – and counting. Although the odds were against Artem and I, we managed to succeed.
Over the years, we've been able to understand some of the reasons that co-founderships fail — and more importantly, why a few, like ours, succeed. Here, I outline five principles all co-founders must agree on before working together.
1. Divide your responsibilities and carve out clear roles.
One of most critical things you should consider before jumping into a co-foundership is partnering with someone who can make up for the qualities you lack. It's important for co-founders to each have their own personal strengths in a business so they can divide the responsibilities and succeed in their respective roles.
For example, Artem is an expert in software engineering, product development and all things tech. Meanwhile, my talents lie within business management and networking. In practice, we balance each other out, consult on all the big decisions and trust each other's judgment on these respective roles 110 percent.
2. Identify the top goal you both share for the company.
When it comes to co-foundership, your motivation for launching a business may differ to that of your friend's. This, in turn, can lead to failure. For example, while your long-term goal may be launching a successful business, your partner may just want to earn some extra cash on the side. This is 100 percent opposed to the foundation of a successful co-foundership, as it can trigger arguments, threaten business growth and ruin friendships.
Artem and I have succeeded with Noom because we started the company with one goal in mind: to create a long-lasting company that makes getting into shape fun and efficient. We didn't want money. And we didn't want fame. Fortunately, our shared goal has kept the business running – and growing – to this day.
3. Set some ground rules.
Every business has its own set of rules. But here at Noom, Artem and I also have some rules with each other. Specifically, we've come up with three business commandments we can't ever break – and they're all based around trust.
As partners and friends, we never cross the line via phrases that imply that: I don't trust you; I think you have bad intentions; you're being selfish. Trust is crucial for every partnership, and ours isn't any different.
4.  Recruit a third party for an unbiased point of view.
When you're in a partnership with a friend, disagreements about the company will occur. Hell, even shouting matches will happen. It's inevitable. This is why it's essential to have an unbiased middle man to mitigate any conflicts that pop up.
I also recommend having board members and a group of advisors who can provide different perspectives and contribute to a healthier partnership.
5. Set 90-minute one-on-one meetings once a week.
Artem and I consider communication our key component for co-foundership. In order to ensure we're always on the same page, we hold weekly 90-minute talking sessions that no one can interrupt or reschedule.
During these private conversations, we inform each other about everything, from upcoming projects to any new ideas we might have. We also even talk about our personal lives. And when we can't manage to meet each other in person, we simply video chat on Skype.
Bottom line.
Overall, we consider these weekly conversations necessary to sustaining a healthy co-foundership, business and friendship. Because nothing can kill any type of relationship faster than a lack of communication.
Saeju Jeong is the CEO and Co-founder of the world's leading weight loss program, Noom Coach. The mobile app has helped over 47 million users live healthier lives with the support of trained and certified health coaches. The app has been awarded multiple grants by the NIH, and is the first mobile diabetes prevention program certified by the CDC. Jeong also sits on South Korea's Ministry of Science & Technology's steering committee and the board of Chonnam Hospital, South Korea's largest private hospital.