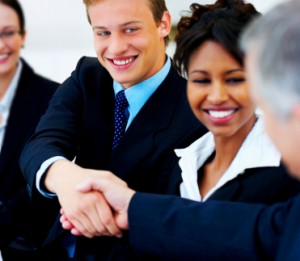 It's easy to come up with an idea for a startup business. What's not so easy is executing on this idea. And even after you get the business up and running, you'll find that you have to continually prove yourself in the marketplace.
And one of the biggest questions you'll face is, how can you appear big and professional when you're small and inexperienced?
There's nothing wrong with being small. In fact, there are a number of benefits that come with this distinction. For one, you're much more nimble than larger organizations that are weighed down by bureaucratic systems and rigid processes. You have the ability to pivot at a moment's notice and pursue new opportunities with minimal kickback. Secondly, you're able to offer more personal customer service to your clients – which results in greater value.
Unfortunately, there are also plenty of challenges associated with being small. One of the chief concerns is that you come across as inexperienced and unprofessional in the marketplace. There's a misconception that size correlates with ability. While this is sometimes the case, it's by no means a hard and fast rule. And whether it's true in your situation or not, you must do everything you can to rise above the stigma and make your startup look qualified.
Situation-specific factors will always come into play for businesses, but here are a few practical suggestions regarding how you can look more professional:
1. Have a Consistent Digital Presence.
Your online presence is your company's brand image. If you don't take it seriously, you'll deliver a watered-down, incoherent message that fails to resonate with your target audience.
For starters, you need your digital presence to be sleek and professional. This includes your website, social media profiles, content, advertisements, email communications, and any other online touchpoint. But even more than that, you need your online presence to be consistent. Any variances will be exposed by your customers. 
2. Streamline Basic Financial Tasks. 
If there's one thing customers take seriously, it's their money. When it comes to handling sales and finance tasks, you need these processes to be as smooth and professional as possible.
For invoicing, use a cloud accounting solution. Tools like FreshBooks offer invoice templates that are easy and intuitive to use. And because they look so professional, they command respect (helping many companies get paid twice as fast as traditional manual invoicing). 
3. Secure Professional Contact Information. 
Nothing screams small and unprofessional quite like using your home address for business correspondence. 
"The easiest solution is to pay for a virtual office space or to get a box from the local UPS store or post office to have a standard street address you can use to receive your mail," BusinessBlogs explains.
The same is also true with your phone number. Even if you don't want to get a separate phone, you can add a dedicated line to your existing phone by signing up for a Google Voice number.
4. Get Out of Your Basement. 
It's okay to launch a business out of your basement, garage, or spare bedroom, but there comes a time where you have to move into a more professional space. This is especially true if you have a lot of face-to-face communication with customers. A dedicated commercial space shows you're committed for the long haul.
5. Stop Apologizing. 
It's important that you don't incessantly apologize for being small. Not only does this make you look inexperienced, but it takes away from the real value that you're offering clients. By focusing on your products and services, instead of the things you don't offer, you can shift the attention to your strengths. 
Position Your Startup for Success.
A major component of building a successful and sustainable business is positioning. How you position your brand in the marketplace will have a tangible impact on the perception of your brand (and the success that follows). The sooner you understand this, the faster you can take control of your image and redirect your energy towards the areas that matter most.