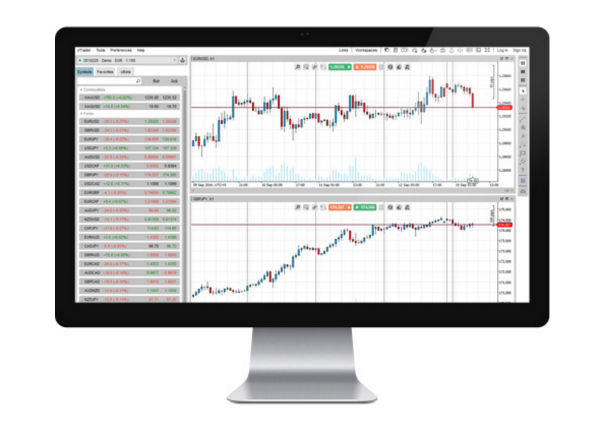 The Forex Market is the largest financial market with a turnover of over 3 trillion dollars in any given day. Going with the best forex platform, for forex trading, is of utmost importance if one is to have a precise balance between the high risks and rewards on offer, in the trillion-dollar marketplace.
A forex platform is a software suite that allows one to access and interact with the market. Such software suites come with currency pairs that one can choose to trade as well as essential tools and indicators for carrying out detailed analysis. Some platforms go the extra mile and provide forex trading signal system all in the effort of enhancing forex trading experience.
Top Forex Trading Platforms are indispensable tools that enable analysis and active forex trading. One should always be ready to compare forex platforms to end up with the best gateway for investing in the lucrative forex market.
The best currency trading platforms simplify the process of accessing research material as well analyzing news events. They also make it easy for people to carry out technical analysis on charts, essential for making profitable trades.
Top Forex Trading Platforms.
RC Pro also makes the list as one of the top forex trading platforms provider backed by MT4 Platform, an ideal choice for people who cherish electronic trade and deal execution. The platform is the latest in strategy as well as analytic tools. The broker also offers a web trading platform for executing trades from any computer device. There is also a mobile platform for people who wish to track their forex trading operations from a mobile device.
Dukascopy Bank was ranked as one of the best forex trading providers thanks to its award-winning JForex 3 Platform. As one of the best forex platform it is available both in desktop, web, and mobile. It is also compatible with all the popular Operating systems. What makes it stand out is the 313 technical indicators on offer as well as the fact that the platform supports automated trading strategies.
Saxo Bank also ranks higher as one of the top forex trading platforms. The firm's web-based platform SaxoTrader Go is designed to offer seamless experience on mobile in addition to a watch list and charts synchronized across desktop, web, and mobile.
IG Group is one of the best forex platforms for people who wish to carry out operations on the web. The Top forex trading platform comes with a versatile chatting and automated pattern recognition tools that make it easy for people to make informed decisions when it comes to trading. The firm also comes with L2 Dealer Desktop platform ideal for experienced forex traders.
Tips to Choosing the best Forex Trading Platform Provider.
There is no central market given that the forex market is entirely electronic. While it is still possible to buy and sell currencies directly from banks and other financial institutions, it is not the best way to go about forex trading.
Forex brokers are intermediaries that simplify the process of buying and selling currency pairs regardless of where one is. The brokers furnish their clients with currency trading platforms used to execute trades. Below are some of the things to look out for when selecting a forex brokerage to open an account with.
Regulation
While it is not possible for a forex broker to be in compliant with all the necessary regulations, they should meet the minimum thresholds based on jurisdiction. The best forex trading platform providers come with the necessary licenses that allow them to facilitate forex trading. RC Pro is one such broker that has met all the requirements for providing the best environment for forex trading
Markets Offered
Prior to opening a forex account, it is essential to understand the markets or individual products that a broker offers. Different brokers come with varying pairs of currency that also tend to vary by region. Through its MT4 Trading platform, RC Pro provides people a way to trade more than 200 trading assets.
Trading Platform
Reliable forex broker strives to provide their clients access to all the top forex trading platforms. While choosing broker, it is important to look at the trading tools available on the trading platform on offer. It is also important to ensure that the trading platform is compatible with a given computer operating system or even a computer browser.
Customer Service
The scope and quality of customer service is a big deal in a market where customers experience challenges and hitches from time to time. By reading customer reviews online, one should be able to understand how reliable a given broker is when it comes to addressing the challenges and problems that traders face from time to time. A reliable forex broker, in this case, is one that offers speedy quality assistance across all global trading hours.
Final words.
Forex trading can be highly rewarding when carried out in the right way after in-depth analysis and research. If new to the trade, forex platforms do allow people to open demo accounts for polishing trading skills prior to funding a full account.