by Gregg Brown, author of "Ready… Set… Change Again!: Take Control of Change Before It Takes Control of You"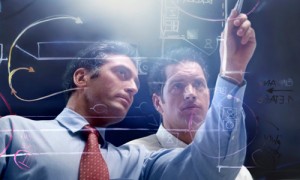 As an entrepreneur and small business owner, I find it often difficult to juggle all of the changing priorities that happen on a daily basis. This includes having to deal with the immediate tasks at hand, as well as developing future-focused strategies such as planning for new markets, new technology, and driving business.
When we're under pressure and in the middle of organizational change, staying on top of it all can become difficult, especially if we're expected to manage the change process while keeping productivity levels high.
Here are 5 ways you can efficiently manage change for your business:
1. Utilize digital insights.
New and emerging technology is a major driver of change. Technology such as artificial intelligence is poised to become commonplace in small business. This will lead to better data collection, the automation of repetitive tasks, and the ability to make decisions with immediate access to real-time, in-depth information. Your customers want immediate access to information and they are expecting a more tailored approach to their needs – regardless of what type of business you're in. Small businesses need to be aware of how data moves in and around your organization. Take the pre-emptive step of mapping how new technologies like cloud storage and artificial intelligence can simplify and enhance the flow of information both inside and outside of your organization.
2. Be prepared to be unprepared.
The longer, the more complex the changes, the less you will know what the future holds. While as entrepreneurs we need to do sales forecasts and marketing plans, we need to be agile in our approach and be ready to change on the fly. In today's economy, regardless of where you live, you may be able to predict 3 months out, yet you still require a plan that's longer – and that can be changed quickly. Don't be too rigid and say, "This needs to be done this way". Be open to innovation and new ways of doing things. Sounds simple, but it's not easy to practice when under pressure to get things done.
3. Talk about shifting mindsets.
Change isn't just a shift in behavior or learning a new skill. Effective sustainment of change requires a change in mindset. Encourage a shift in the mindset of your staff, colleagues and even your network.  Whether it's meeting customer needs, how work gets done, how they work with each other, or the organization's overall business model. Gather evidence, stories, data, lessons learned to help everyone understand the mind shift that's needed. Your customers will really benefit from this!
4. Avoid false positivity.
As entrepreneurs, we're often told to put a positive spin on things to get the sale or to make things happen quickly. Know the difference between putting a positive spin versus taking a positive approach, and when to allow people to voice concerns when they're feeling doubtful about something – this includes your customers. Putting a positive spin on things is not taking a positive approach. Rather, you're denying that something is wrong and you possibly close down communication with your colleagues and customers. People are smart and can see through the spin. Sometimes you have to stay in the negative before you get out of it. Don't be afraid to acknowledge that something went wrong. This builds trust with your customers and team. That's taking a positive approach.
5. Develop the right change practices for your business.
There are many different change models out there. I've heard business owners, academics, and vendors say, "This is the best model".  In my experience, there are usually many options. Make the shift from best practices to understand the "right practices" for your business and recognize that these practices will need to be adjusted with each new change your business undergoes. Make sure you ground your decisions in real time facts, as well as balancing what your "gut" tells you to do. As your business grows and develops, balancing both will be the key to your success!
Gregg Brown is a best-selling author, inspiring speaker and award-winning expert in the fields of leadership, resilience and change. With a solid background in change management, Gregg has worked extensively in the US and Canada and spoken hundreds of times at conferences and led sessions with Fortune 500 clients in various sectors. Gregg is author of "Ready… Set… Change Again!".