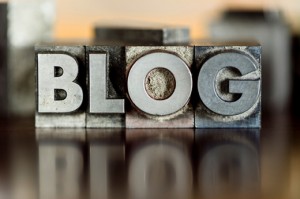 Blogging has become a valuable marketing tool for many small business owners, despite that others remain skeptical about its importance. While many entrepreneurs claim they don't have the time to blog, they may well think differently if they knew just how much it could impact their small businesses.
The benefits of blogging for business include higher ranking in search engines, enhanced social media presence, and improved conversion rates, all of which leads to better sales.
Small business blogging might be hard work, but the results are well worth it if you do it consistently. Here are four tips to help you start blogging today.
1. Choose Your Blog's Name Wisely.
The name of your blog is important for two reasons. Reason one is that it lets people know what your blog is about and helps them remember you. Reason two is that you can get into a legal dispute if you register with a domain that's already taken.
If you're writing to promote your small business, you probably want to name your blog after your company or at least choose something similar. You might own the rights to your business name, but difficulty arises when your company name isn't available as a domain. To avoid legal trouble, it's best to consult an internet lawyer for domain dispute information before you name your business blog.
2. Blog Consistently.
Small business owners must commit to blogging consistently. Publishing high-quality content regularly not only keeps you relevant, but it also means you'll rank higher in search engines like Google and stay present on social media. You don't need to post a blog every day, or even every week if you don't have the time. The important thing is to be consistent.
It takes around 50 posts for Google to index you, which makes it easier for potential customers to find you. So keep blogging, and employ SEO tactics within your posts to help you get noticed. Over time, these efforts will undoubtedly lead more people to your site.
3. Don't Only Write About Your Products.
Your goal as a small business blogger should be to share industry tips, offer insight and write interesting content that's relevant to your readers. Your business blog is not space for you to sell your products – that happens after you've engaged your audience and they've clicked through to your site.
It's OK to mention or link to your products every now and again. In fact, Google favors sites with internal links, so the occasional post that redirects readers to your products will improve your SEO ranking. However, if your readers think you're trying too hard to sell them something, they won't stick around for long.
4. Be Authentic.
One of the many benefits of business blogging is that it gives your brand a voice. However, if you don't employ the right tactics, then this could work against you. You want to establish a tone that is authentic, credible and personable when you write your posts, while also staying relevant to your blog's target audience.
It's far better to post one compelling and highly relevant post per week than to stuff your blog with filler content no one wants to read, so think about how you want to represent your brand before you start posting.