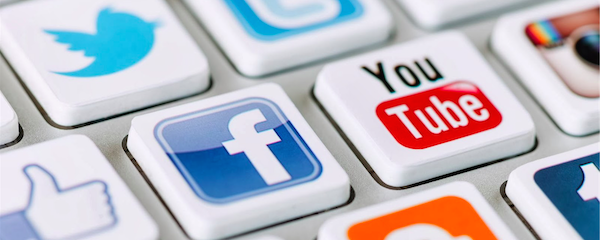 If Harry Potter had a LinkedIn profile, what would it look like? His headline would probably read something like "Classically trained wizard with a proven record of conflict resolution." Harry would do all the right things in his profile (with help from Hermione Granger, of course). He'd have a great profile picture and use relevant keywords and phrases in his about section. He'd share often, comment, add original content and post exciting visual elements.
But even Harry might not realize the professional benefits other social media channels offer. To be sure, your business needs a comprehensive and engaging LinkedIn company page; after all, LinkedIn is the most widely used professional and business social media platform. But it's certainly not the only game in town. If you're in business, check out the following platforms. You know Harry would.
Facebook For Business?
Unlike LinkedIn, Facebook wasn't built for enterprise. But it has reputation, visibility and communication tools that make it an invaluable business resource. Consumer and small-business owners have long understood the value of Facebook for building relationships. More than just an easy platform for communicating directly with customers, Facebook is a force when it comes to networking, learning, sharing and building a community of loyal followers.
One of Facebook's most overlooked features is the groups option. Click or tap the "Groups" link in the left sidebar navigation. Browse through the "Explore" section to find the "Business" and "Professional Networking" sections. From there you can browse the lists to find groups related to your profession or industry, or you can search using specific keywords and phrases. Join groups you'd like to participate in.
After becoming a group member, you can connect with other industry professionals, share news and links and discuss hot topics. If you're in a highly specialized field and can't seem to find the right group, create your own and recruit members. You can also create a group within an existing group for more focused discussions.
Tweet Your Way to Hogwarts.
Twitter has a reputation for being a fast-paced breaking news platform. And that's just what it is. But Twitter can also be an effective networking tool and online reputation builder. Follow your profession's industry leaders and retweet newsworthy events and posts. Share plenty, follow others, add your own comments when you share posts, and engage daily.
Take time to learn the value of hashtags. Hashtag searches can help you find peers, connect with influencers and quickly discover industry-specific posts and threads. Create searchable hashtags for your own company events, news and announcements. The most popular hashtags make it to Twitter's Trending list which increases visibility even more.
What's a Quora?
Former Facebook employees Adam D'Angelo and Charlie Cheever founded Quora in 2009. In simplest terms, Quora is a community-run knowledge database. Users post questions and answers on a variety of topics, including all things business.
Only registered users can post. Registrants must use their real names—no screen names allowed—to ensure authenticity. Community users rate answers, suggest edits, provide more information and discuss various points relevant to the question asked. Other users check content for validity and worthiness, but Quora maintains a small staff of editors who intervene in the case of egregious violations of the site's terms of service.  
You're thinking, This is all interesting, but what does it mean for me? Shortly after its founding, business owners and professionals began to flock to the platform, realizing its value. Forming new connections, networking with colleagues, discovering learning opportunities and sharing expertise are part of what makes Quora such an effective professional tool. The platform provides an easy way to share posts via email as well as other social media platforms. Even better, Quora posts rank well in search engine listings.
The Quora platform is an underrated tool for professionals and businesses. It's free and easy to use, and engagement only takes a few minutes each day.   
Google Plus, You Say?
You'd think Google Plus would be one of the most widely used platforms for businesses and professionals. But for some reason, it fails to appear on a lot of social network popularity lists.
Google Plus offers many of the same tools LinkedIn does, including a professional or business profile, website and blog links, and the opportunity to post your own content and share content posted by others. In addition, Google Plus gives you the ability to connect with fans and customers. It's also easier to see and respond to comments on Google Plus than on Twitter. In other words, the platform's got a lot going for it. It just doesn't have the huge user numbers … yet. But, it's Google — it's a good bet it will.
Google Plus for business has another advantage other platforms don't—it's owned and administered by the company synonymous with search engines. Sure, your profile, content, summaries and descriptions on other social media platforms show up in Google searches. But it couldn't hurt to use the social media platform also owned by the most widely used search engine in the world, could it?  
I See YouTube.
Believe it or not, YouTube isn't only for cute cat videos. They may be the most fun, but finding and connecting with potential business partners, reaching out to customers and attracting a global audience are all possible with YouTube.
Video lets viewers see who you are and learn what you know. Create short, elevator pitch-style videos to tell potential partners or customers about your business. Make brief bio videos to explain your services. If you're looking for clients, explain why someone should hire you. Make how-to videos in your area of expertise. Explain difficult concepts. YouTube is an effective platform to prove you're an expert and a human being as well.
Once you put videos on YouTube, it's easy to post them to your various social media platforms and embed them into your website or blog.
Of course, a video is a bit more difficult to create than a tweet or Facebook post. Look at videos made by partners and competitors to see what you're up against. With practice, you'll get the hang of it—remember, it took Harry Potter a few tries to levitate his first feather.