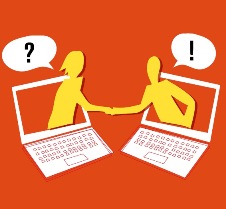 It is a very difficult task to start a small business. There are many other companies that you will need to compete with. You also must be good at putting together a budget and managing your finances.
However, one of the things that few small business owners are prepared for involves replying to online reviews they receive. The Internet has created a place where consumers are instantly able to give their opinion on just about anything. This includes the experiences that consumers have with the professionals and businesses they deal with on a daily basis. Your small business is going to receive online reviews. The way that you choose to reply to these reviews will go a long way towards determining the success or failure of your business.
Here is some advice you will be able to use when it is finally time to write the replies to the reviews your small business has received.
1. Do not allow the online reviews you receive to go unanswered for a long period of time.
Consumers will not look favorably on your small business if you decide to ignore all of the online reviews that are written about it. They will take your indifference to mean that you do not really care what your customers have to say. Obviously, you do not want the people who spend money at your business to get this impression. Therefore, monitoring all of your online reviews and replying to them when your schedule permits is absolutely imperative. It is fine if you let a few days go by before you decide to post a reply. However, you should avoid allowing any online review to go unanswered for more than one week. This is an adequate amount of time for you to be able to write a reply that will adequately address any online reviews that you find. You might also want to consider using a review management platform to help you out with this task. It could make your life a lot easier.
2. You should never keep posting the same reply for multiple online reviews of your small business.
Consumers expect business owners to address the specific comments made in the review they are replying to. They will be able to tell if you are simply rehashing the same standard reply because you are too lazy to write a new one. Consumers reading your reply will think that you do not care enough about the content of the review to take the time to write an original reply. Once again, this will reflect poorly on your business. You need to put some effort into all of your replies. Constantly churning out replies that were quickly written will not endear you to any potential customers who might be reading it. CX software can greatly help you to ensure that all of your customers are satisfied when they do business with you.
3. Negative reviews should be replied to very carefully.
Getting upset when someone posts a negative review about your small business is a natural reaction. After all, you work very hard to keep all of your loyal customers happy. However, you must never show your frustration and anger when you are writing a reply to a negative review. Insulting the author of the article and saying that the person doesn't know what he or she is talking about is not what you should do. You need to be very understanding, considerate and respectful. Taking an aggressive approach to replying to negative reviews will backfire on your business in a very big way. Basically, consumers want to know that you are willing to bend over backwards to please customers who are dissatisfied with your products or services. Your reply should state that you are going to personally handle the complaint mentioned in the negative review. This will give consumers confidence in your small business.