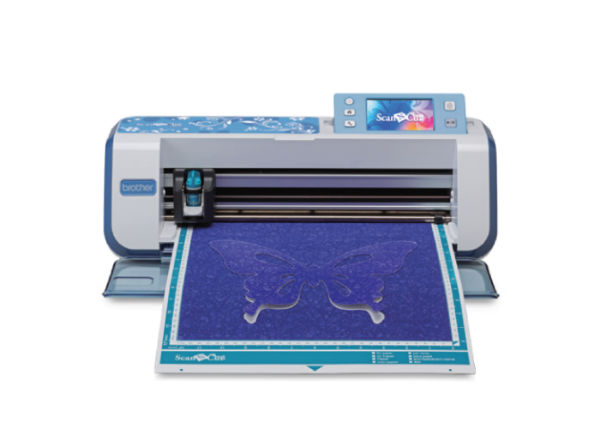 The Advantages.
The die cutter also features a 300-dpi scanner, which means you are able to capture your very own backgrounds and images to use at a later stage.
The Drawbacks.
The die cutter comes with limitations in regard to materials of up to a thickness of 2 millimeters even though it features multiple settings when it comes to depth, pressure and cutting speed.
Verdict.
The Brother ScanNCut is still the ideal choice for beginners. It features a fully comprehensive starter-kit that works without or with a computer.
In the evaluation we have arrived at in association to the top die cutters, we think the Brother ScanNCut stands out from the competition because it is lacking in computer software, cartridges and dies, which makes it a type of electronic cutting-machine opposed to a traditional die cutter. The Brother ScanNCut provides a number of tech features. The touch screen in full-color features a stylus and performs in a similar way to mobile screens. This means you are able to edit images as well as weld, move or flip shapes together. It is also allows for a way to arrange your designs on one material so you can reduce waste and conserve space. This ScanNCut is USB compatible and it already operates in the form of a 300-dpi scanner. However, you can also import any other images directly onto the machine and access them without the need for a computer.
Similar to power tools, the settings require adjustments on the die-cutting machine as soon as you work with a different material. For instance, a delicate material such as tissue paper have the ability to tear or rip easily when the blade is applying too much speed and pressure. In addition, the die cutter won't be effective on tougher materials such as leather or rubber, when the machine is not applying sufficient pressure onto the blade. If you want some more tips, check out these Scan N Cut tutorials – they will allow you to make the most of this device.
This machine offers 12-blade depth levels that can be adjusted for any materials up to a maximum of 2 millimeters in thickness. This will limit the user to lighter materials, yet the machine is small and weighs only 8.25 pounds. The user may find it difficult to use the die-cutter on thicker or tough materials even when the materials are only 1 mm thick. Materials such as sticker sets, magnets, felt, light cotton or flannel are suggested as compatible with this Brother version. The machine also works well on vinyl, glitter paper and cardstock. Over and above the pressure adjustment, the user is also able to adjust the depth level and cutting speed. For example, for quilters, this Brother is able to adjust seam allowances by 7 width levels.
The Brother ScanNCut offers a host of additional accessories and tools, like the pen-set that replace the cutting blades to draw with, a handy idea book and various digital patterns. This machine is versatile and handy for any newcomer that wants to test out the limits when it comes to die-cutting machines.
The stock images happen to be useful when it comes to creating simple cards or crafts. If the user has found a premade design that they like, the width and the height can still be adjusted. Other features include a way to weld, mirror and duplicate fonts and designs. This Brother offers 700 built in-designs, 5 fonts and 140 quilt patterns.
Brother provides customer support through their website FAQs page, email or by telephone. Their website divides the support section according to the product types, which means customers may need to go through the drop-down menus to find the answers that they need. Their phone-lines are automated which will request the customer to state a problem with their ScanNCut opposed to connecting the customer to a representative.