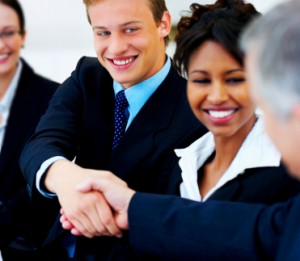 So, you're ready to launch your startup, or perhaps you already have. You've come up with a great product that you believe solves a problem in your chosen niche. Your next question is: how do you get customers to see the value in what you're selling enough to want a piece of the pie?
Attracting new customers is a challenge every entrepreneur faces, but retaining their business is equally critical to the growth and survival of a business. So, to help get your startup off the ground, here's how to find and retain those first few customers.
Attracting New Customers.
There are numerous ways you can attract new customers, especially in the digital sphere, but perhaps the most influential selling points of any small business are location and word of mouth. If your company operates online, your "location" might refer to where you can be found on the web, and whether your site is visible across social media channels search engines.
If you're opening a bricks and mortar business, i.e., a coffee shop, then your physical location will likely determine how many customers you attract from the start. However, being ideally situated doesn't guarantee success. In highly populated areas, word travels faster – so you need to make sure your customers are saying the right things. Word of mouth should be a marketing strategy, not the downfall of your enterprise.
Your reputation relies on how well you deliver your product or service, and the nuances of that delivery will be unique to your industry. However, targeting the right customers from the start will increase your chances of meeting their needs. Remember: reaching a smaller number of loyal customers is better for the growth and longevity of your business than attracting a larger number of the wrong customers.
To attract new customers, you need to decide on your target audience, along with how you're going to reach them, and how you will market your product.
Retaining Customers.
Any seasoned entrepreneur will tell you that it's far cheaper and easier to retain existing customers than it is to acquire new ones. With this in mind, the most important step toward retention is attracting potential repeat customers to begin with.
Ones you have established a client base, you want to make it as easy as possible for your customers to remain loyal to you. Give them an offer they can't refuse, such as regular discounts and rewards schemes, or provide a subscription payments system: that way, they receive a regular service, and you receive ongoing payments via direct debit.
You also need to focus on customer experience, utilizing technology in any way you can. Respond personally to complaints: in other words, don't repeat the same non-committal reply to each disgruntled customer. Instead, reach out to them directly, either in person or via email or social media.
Conclusion.
Businesses serve customers, not the other way around, so it's important to only market your product to those with a genuine need or desire for it. Then, make sure what you're offering is the best on the market, paying attention to the customer experience you're providing.