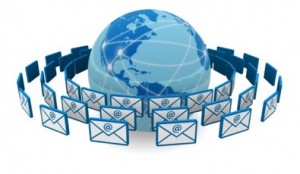 Year after year, Black Friday and Cyber Monday amass billions in sales. In 2016, Cyber Monday sales increased 12.1% to $3.45 billion, breaking records in the process. Consumers begin looking into Black Friday and Cyber Monday sales weeks before they begin, and many shoppers reserve the bulk of their holiday purchases for this particular weekend.
What's great about this unique shopping extravaganza is that, no matter what type of business you run – startup or corporation, e-commerce or brick and mortar – you'll be able to set sales that appeal to your target audience.
Without question, one of the best ways to achieve this is through email marketing. A study from Custora found that email brought in 27% of overall sales during the Black Friday weekend. This was the largest source of traffic, with free search trailing behind at 18.9% and paid search at 18.5%. Trends seem to suggest that these numbers will only increase in the coming years. To stay ahead of the competition, it's crucial that you develop a solid email marketing campaign for Black Friday and Cyber Monday.
1. Organize Your Campaign.
To start, create a rough plan detailing when each email will go out, and what each email entails. As a starting guide, consider the five following emails over the course of your campaign: Black Friday – Cyber Monday sale announcement; sneak peek of upcoming sales; reminder email that sale will be ending soon; additional exclusive sales for subscribers; and a cart abandonment email. Some retailers will choose to create an extended sale email to capitalize on customers who missed shopping deadlines at your store and elsewhere.
2. Your Design Matters.
Your email design should be as appealing as your sale, but most importantly, reflect the brand. There are endless opportunities for creativity here, and what you decide to on may be influenced by resources, budget, and staff availability. Some campaigns are straight to the point, with a simple graphic that informs the reader of the sale. Others have quirky animations and visuals that pop. Here are some great email designs from other retailers to help inspire you.
3. Email Copy.
Your email copy should be concise. Be sure to keep all the most important information above the fold. The most important information is what the sale entails. Is it a percent off total orders, or are only certain items on sale? Are you offering free shipping, or throwing in a free gift for orders over a certain amount? All of these details should be clear in the email, allowing readers to quickly understand the value proposition.
Another tactic retailers use is to offer savings to new customers who subscribe. This strategy capitalizes on the sales holiday by creating long-term opportunity for future email campaigns. Every business wants to grow their subscriber list, and many potential customers are willing to exchange their information for savings and free product.
4. Include Gift Guides.
Rather than be all about promotion, you could also include valuable content in your email. According to Experian, emails containing gift guides have a transaction rate 48% higher than your typical promotional email. Gift guides eliminate a chunk of the research process that many shoppers go through when seeking out the perfect gift. When you make it easy for them, they are likely to take action.
For example, Sephora's "10 Under $10" gift guide features various low-priced products, while Urban Outfitters produced several gift guides with titles like, "Gifts For Guys That Don't Suck" and "Stocking Stuffers." Be sure to promote each of your products individually across your social media channels.
5. Create Cart Abandonment Campaign.
According to Baymard, the average cart abandonment rate is 69.23%. This means you miss out on the majority of your sales. To keep that number on the lower end, create a cart abandonment email for visitors who added items to their cart, and left without purchasing anything. And you'll find that the efforts are well worth it: nearly half of all cart abandonment emails are opened, and one-third of clicks actually follow through the purchase. Furthermore, on average, cart abandonment emails result in purchases 14.1% higher than on-site purchases.
Every cart abandonment email should include a list (with images if possible) of the products they did not purchase. They should be well-designed, and the content should be straightforward and engaging. Some businesses will choose to offer consumers additional discounts or free shipping for following through with a purchase. Here are a few cart abandonment examples to get you going.
Bonus tip – Automate the workflow.
Doing email marketing manually is Stone Age and professionals should always do their best to be ahead of the game. Automating email marketing and bringing it to the new level is the key point that will help you. One of the tools that will support you is email drip campaigns. This is a tool with the help of which you can create email sequences with lots of useful features: personalized emails, triggers, delays, schedules, and statistics.