by Soulaima Gourani, founder and CEO of Tradeconductor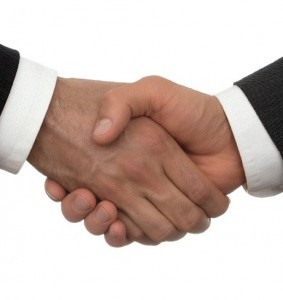 Are you or your company going into strategic partnerships with other people or companies? Do you see the benefits of entering into a partnership in order to reap the numerous benefits without having to make large investments, such as in acquisitions?
A strategic partnership, requires at least two individuals willing to share the burdens and benefits of their business. Two (or more) businesses may enter into a partnership either from the marketing, supply chain, integration, technological, financial standpoint, or some combination thereof. Such an agreement might exist between a digital ad agency and a graphic designer, a hair stylist and a makeup artist, a photographer, photo editor and web designer, or an internet service provider and an email provider, just to name a few of the many possibilities.
Briefly put, different companies/persons enter into strategic partnerships in order to grow their business and bring more value to their end customers and reduce their financial risks.
Benefits of entering in a partnership include:
Strengthening innovation
Creating a deeper and wider connection with customers and markets
Adding more capacity to your business
Adding competencies and other skills that may eventually help bring about an improved competitive foundation
The other side of the coin.
Unfortunately, many alliances do not end on a happy note. Did you know, for example, that more than 50% of all strategic partnerships end up leading to frustration, misunderstandings, financial and personal losses? As I've noticed, many companies do not have in place systematic procedures for how to nurture and expand their strategic relations, which is essential to achieving the maximum effect of the cooperation and of the resources that you invest.
Often, each party has their own purposes, desires, and expectations for the alliance. Therefore, there are as many agendas as there are partners in the coalition.
So before entering into a partnership with another individual, business or individual it is important to take into account the following.
Culture – The does the culture between the participating companies/persons align?
The right match – Too many organizations are on different levels when they enter into a partnership. You must be headed in the same direction. Too many have tried to save each other by having the strong one take care of the less strong. That rarely works out well. There must be some sort of equality in the partnership.
Goals – Are the goals entirely clear to all parties, such as: what are the purposes and goals of the partnership – and is there a strategic fit between all parties involved?
Rewards – Are the partners/persons involved in the partnership experiencing a reward for driving and nurturing the partnership?
Honesty: Is there a method for communication so that the partners are motivated to share knowledge. Be honest about the things that turn out well and the ones that turn out bad. Discuss your mistakes so that both parties may learn from them. Share experiences with each others.
It is important that the points listed above are clearly communicated and agreed upon. If they are not, the partnership can start off with a bad foundation; therefore, all information and knowledge should not be held back, especially if you have your own goals that are not shared with all parties involved. A lot of partnerships end sour when there is a hidden agenda and the motives are being kept secret.
Founder and CEO of Tradeconductor Soulaima Gourani is a lecturer, corporate advisor, and author. In 2012 she was announced as one of the Young Global Leaders by World Economic Forum and later that year named to be the chairwoman of the non-profit organisation Global Dignity.  In 2013 she was announced as one of the greatest thinkers in the Nordic by Nordic Business Forum. and in 2014 chosen as one of the "40 under 40" European young leaders. She was elected as a TED mentor in 2016..