by Andrew Durlak, Co-Founder & VP of Operations at Scout RFP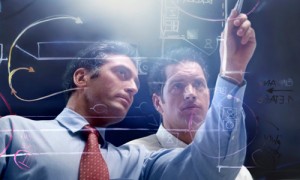 Businesses are well-versed in leveraging technology in customer-facing activities. Internal business operations, on the other hand, are a different story entirely. A recent Harvard Business Review (HBR) report, created in partnership with Scout RFP, highlighted this lag and its possible ramifications. In today's digitally empowered world, businesses that leave key departments in the technological dust will suffer strategically.
As Ernst & Young points out in a recent report, digital technology is a main driver of strategic prioritization — and any digital technology lag in business-critical functions presents a sizeable problem. If the entire business isn't caught up on digital transformation, it makes it difficult (impossible, even) for finance leaders to engage in strategic leadership and optimize revenue opportunities by driving ROI from tech investments.
The first step is to expand your focus on digital transformation for the company and zero in on oft-looked over departments that are under finance's leadership. Procurement is one such area; it holds high ROI potential, yet is rarely taken full advantage of.
Overlooked benefits.
With the right technology, procurement can have a staggering impact on the company's bottom line. According to the HBR report, strategic sourcing has the potential to increase ROI up to 400 percent, with the added bonus that "any cost savings realized through sourcing improvement drop directly to the bottom line, which in turn can have a substantial impact on profitability."
The report also points out several other overlooked benefits of strategic sourcing: "Although some dimensions are more straightforward to quantify than others, the concrete financial returns of focused sourcing and procurement efforts are quick to accrue and very easy to identify, executives say. The work is tangible and measurable, with a rapid and unambiguous impact on shareholder value. Once the company undertakes improvement, executives point out, the financial benefits begin to accumulate rapidly."
Making the first move.
As finance leaders look beyond increasing sales as a way to improve cash flow, the case to prioritize procurement is compelling. Without a lot of fanfare or oversight, strategic sourcing – when supported by the right technology – proves to be a significant step up from traditional cash flow tactics.
Finance leaders who are ready to dive into digital transformation must approach the change these three ways:
1. Boost stakeholder support.
Adopting new technology is only rewarding for the business if stakeholders are fully engaged. To encourage this engagement, finance leaders must present and encourage buy-in by thoroughly explaining what problems the new solution addresses, whether that be a more efficient work environment or expedited company savings. An effective solution will also speak for itself, demonstrating a notable improvement in terms of results and processes, which also make stakeholders more supportive of the change on their own accord.
2. Choose the appropriate technology.
There are a few key traits to look for when selecting new technology — namely, that is emphasized usability, automation, and collaboration. Look for an easy-to-use solution that facilitates cross-functional team collaboration within a single platform. Additionally, implementing a technology that improves strategic vendor decisions for faster savings can result in further technology advancements. In short, digital transformation fuels even further digital transformation. As finance leaders prioritize future-focused digital implementation, they open the door for accelerated transformation for the entire company.
3. Simplify implementation.
As finance jumpstarts a digital movement, keep onboarding fast and simple, and streamline implementation to maintain momentum for future transformation. Creating a simple adoption process is crucial to keeping stakeholders engaged throughout the entire implementation (and beyond). A streamlined adoption process will establish the long-term use of new tools by encouraging users to fully utilize the technology from the start, minimizing the risk of the technology fading out.
The responsibilities of finance have changed over time and leaders must adjust accordingly. As Ernst & Young's The DNA of the CFO report notes, "Where once its remit was predominantly that of a reporting function that focused on balancing the books, it will become a data-driven decision-center." While accounting and ERP software have traditionally been digital drivers of change, finance leaders must begin to look outside of finance-specific tools to jumpstart overall business transformation. Finance leaders who seek out non-traditional areas — especially procurement — for digital transformation will be rewarded with previously untapped strategic opportunities that the whole company can celebrate.
Andrew Durlak is Co-Founder & VP of Operations at Scout RFP. Andrew has a rich background in the world of finance from his private equity and investment banking days. He previously worked at Prospect Partners doing due diligence and portfolio management. Prior to this, he executed M&A transactions at Harris Williams & Co.