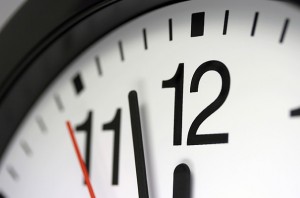 Managing employee schedules and their method of clocking in and out has grown easier and more reliable this year.
Below are two leading choices in employee time clock technology:
When I Work.
When I Work, a company headquartered in Minneapolis, Minnesota, is fast growing employee management application founded in 2010.
When I Work takes advantage of the fact that nearly three quarters of all Americans and that 92% of Americans aged between 18 and 29 years old have smartphones. Employers can rely on their employees to download the app and then get synced to the organization's scheduling system.
Here's how it works. An employee downloads the app and then updates his or her availability for shifts (this information can be changed at any time. The manager can then generate a schedule with the click of a button. The employee is then alerted to the fact that the schedule is available, and then given an opportunity to acknowledge these shifts, alerting the manager that he or she is responsible for working those shifts. If he or she wants to swap a shift with another employee, or release the shift so that any employee may pick it up, all he or she needs to do is click on the shift and go to the options. Another great use for the app is a system for employees to request time off—you can set the app to prevent requests for busy days or dates too near in the future.
Additionally, When I Work offers integration with several leading apps. For example, if users prefer another sort of calendar app (for example, perhaps they maintain a Google Calendar), then with the click of a button, their schedule will be automatically imported and synced and they only need to login to the app to manage requests for time off and swapping/releasing shifts. When I Work also offers integration with social media, allowing users to share their work schedules with family and friends with ease.
Employees can also use the app to clock in and out at work, or if your company has an iPad that can be used by employees, it can also be used as a station for clocking in and out. The program uses GPS technology to ensure that users are, in fact, clocking in at work. At the end of the pay period, this information will seamlessly sync to leading payroll platforms like Gusto, Quickbooks, and ADP.
And the best perk of this program might be its cost—absolutely free to small businesses under 75 employees, and a low monthly cost for each additional person over the first 75.
Allied Time Clocks.
Perhaps your company employs people who do not use smartphones, you have a strict no phone usage policy at work, or there is a lot of turnover and you'd prefer to do things manually. Or, suppose you want to have more security in the method in which your employees clock in to prevent fraud, or the temptation of fraud. Allied Time USA Time Clocks offers a range of time clocks that go well beyond the traditional time clock you see in manufacturing settings.
With smartphone applications like When I Work, the only security offered is that each employee receives a security code that they use to clock in and out. If security is your number one concern, consider their Web Based Wireless Biometric RFID Fingerprint Time System ($399 plus monthly fee depending on the size of company). Employees simply lay their finger on the machine and it records the time clocked in or out. The device works whether connected to the internet or not, but once it is connected, it will allow you to access the reports on any type of PC, and is even able to export the reports to multiple payroll and accounting providers, including ADP and QuickBooks. It's customizable to include optional reports like a list of instances of tardiness, paid and unpaid breaks, overtime, and alternate methods of clocking if the fingerprint fails.
Suppose you like the idea of going manual, but you're on a budget or you want a system that is quick and easy and leaves a hardcopy paper trail. Allied Time also has a device called the AT-2500 Small Business Time Clock ($175, no monthly fee). An employee simply inserts their timecard and the device adjusts it and imprints the date and time. It automatically updates on Daylight Savings Time and remembers the date and time even when unplugged or after power outages. It can be customized for Weekly, Bi-Weekly, Semi-Monthly, and Monthly pay periods.