​by Judy Lees, AYC Web Solutions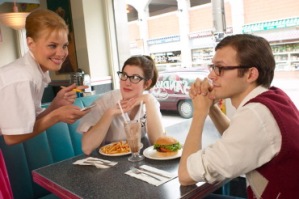 If you're a business owner unfamiliar with CRM, it's time to get to know what it means and how it will help you drive your business forward with greater chance of success. CRM is simply customer relationship management. You know the adage, "The customer is always right," even when they're not. The customer is the lifeline of any good business. You can't succeed if you don't have customers paying for your product or service, which is precisely why it pays to keep your customers happy.
Customer relationship management is more than just keeping your customers happy by bending over backward for them, and these tips can help you develop more productive CRM at work.
Engage the Customer.
In a society in which social media and access to brands, businesses, and those who run them is so easy, it's more important than ever you engage your customer. If your business isn't actively using various social media channels, it's time to change. Twitter and Instagram are two of the most important social media websites for any business, though Facebook is another good one. Instagram is perfect to engage your target audience with creative shots, pretty pictures, and personal product launches.
Twitter makes it easy to keep your customers in the loop with any recent changes, updates, hours, and special announcements your business must make. Facebook is going to help your customer figure out when you're open and what you have to offer. Don't forget to post regularly to keep your customers engaged.
Listen to Your Customers.
If you want to improve your CRM, the process is simple. Listen to your customers. What do they have to say about your business? You can listen to what works for them, but it's especially important to hear what's not working for them. Are you a retail store that closes promptly at 4:30 every afternoon when most people are still at work and your customers complain they can't make it into the shop to pick up what they want? Listen to what they say, and adjust your business to work better for their needs. Click here to learn more about adjusting your business to meet the needs of your clientele.
Keep the Negative.
Here's the kicker. With social media so bold in the business world, you're going to find customers who have mean things to say, and they want to say them publicly. You'll want to delete those negative comments, but you can't. Those are the comments your customers need to read, and your reply to those comments is what they need even more. Your job is to read the comments, respond to them kindly with an apology and a solution. When customers see you took the time to address complaints rather than delete them, they're impressed.
CRM is imperative for any business that wants to succeed, but you can't do that without learning what the customers want. Utilize what you have at your disposal, and never be afraid to make changes and learn. The world is changing all the time, and it's time to change with it. It's the only way to keep your customers happy.
Judy Lees is a super-connector with AYC Web Solutions who helps businesses find their audience online through outreach, partnerships, and networking. She frequently writes about the latest advancements in digital marketing and focuses her efforts on developing customized blogger outreach services plans depending on the industry and competition.