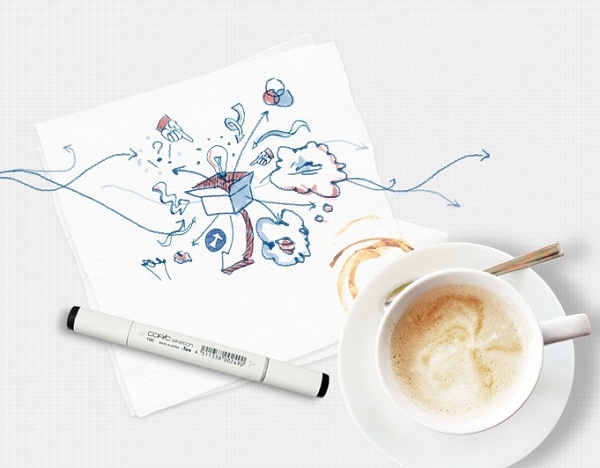 by Patrick Henry, author of "Plan Commit Win: 90 Days to Creating a Fundable Startup"
What makes one idea good, and another one bad, from a business perspective? In creating a successful business, it is important that you assess your business idea in terms of its ability to make money. Business model viability, along with the capabilities of you and your team, are the key considerations for prospective investors in your company.
In what I like to call "smart ideation" there are five quick tests that you can do to get a pretty good ideal about the viability of your business idea:
(1) The Customer Problem-Solution Test.
It is critically important that you assess the value of the idea, from your target customer's perspective. A good idea, from a business perspective, is one that solves an important problem for a set of customers in a big enough and rapidly growing market, with enough value in the solution that you can continue to grow your company over time. In short, you need a unique value proposition.
Many entrepreneurs start with their product, their solution, without deeply understanding the customer problem, from the customer perspective. You really need to dig deep and answer these questions:
Is this an important problem for the customer?
Is the customer desperate to solve this problem?
Is my idea vastly superior to the alternative ways this problem is currently being addressed?
A winning idea solves the biggest problem that your prospective customers have – something they are losing sleep over. Additionally, they do not currently have a solution – or it is being solved in a much less efficient or cost-effective way.
(2) The Sustainable Competitive Advantage Test.
The second test gauges your ability to maintain a competitive position over time. This is called a sustainable competitive advantage. Even if you have a feature or product that is different from what everyone else has, that difference will dissipate over time – and you will have to come up with something new. Is there a long-term roadmap of future features and products that will sustain your competitive position over time? Can you build layers of competitive advantage, like switching costs?
Even if you are the first company to have a solution based on your idea, someone else will eventually come up with a similar solution, so you need to keep moving forward.
(3) The Intersection Test.
A great business idea occurs at the intersection of your domain knowledge, your passion, a unique value proposition for customers, a big market opportunity, and a team of passionate and focused people who can execute the plan.
I have found that the best ideas come from entrepreneurs with this magic combination of specialized knowledge, passion, and customer need. If you have expertise without passion or momentum around it, it's nearly impossible to overcome the obstacles in your way. There is so much inertia from existing competition that you will not be able to break through. You need to have a deep-seated desire and belief that you are going to do something that is going to change the world in a positive way. If you just have passion without some specialized knowledge or expertise, it usually results in tons of energy with no focus. If there is no market or customer need, then there is no value proposition or viable business model. Finding a market that is potentially big and growing fast and having a team that can deliver world-class execution are also essential.
(4) The Market Size and Growth Test.
It is critical that a good business idea must address a potentially large market with explosive growth potential. If a company is doing this, it is typically doubling in revenue every year for three to five years, and sometimes longer. For example, the 2017 eligibility requirements for consideration in the Deloitte Fast 500 include being in business for a minimum of four years, having fiscal year 2013 operating revenues of at least $50,000 USD, and fiscal year 2016 operating revenues of at least $5 million USD with a growth rate of 75 percent or greater.
Why is growth so important? In the McKinsey & Co. article, "Grow Fast or Die Slow," they state that there are two things that make growth the most important factor for business success. First, growth yields greater returns. High-growth companies offer a return to shareholders five times greater than medium-growth companies. Second, growth predicts long-term success. "Supergrowers" – companies whose growth was greater than 60 percent when they reached $100 million in revenues – were eight times more likely to reach $1 billion in revenues than those growing less than 20 percent.
(5) The Idea Refinement Test.
Maybe your idea is a diamond in the rough. How do you make sure that this concept is one that really resonates with customers? You must refine your idea.
First, build an advisory board. Industry insiders with domain and technical experience in your vertical markets can be excellent "sounding boards," and their feedback is essential. The second thing you need to do is get opinions from expert sources in the market. You need "teaching customers" that will share insights with you. Not all customers will have the patience and willingness to give you feedback and guidance. You will have to seek them out and cultivate them.
Ultimately, you will likely need to make incremental refinements and improvements to your idea until it gets to the point where it has a lot of value. It does not need to be perfect; it just needs to be better than everything else that's out there, and solve an important problem for the customer. Ideally your solution is either 10 times cheaper or 10 times better than the alternatives. Or, some combination of the two.
Patrick Henry is the author of "Plan Commit Win: 90 Days to Creating a Fundable Startup". He is the CEO of QuestFusion and has over 25 years experience in managing high technology companies. As CEO of Entropic, he took the company from a pre-revenue and pre-product phase to a successful NASDAQ listed public company.