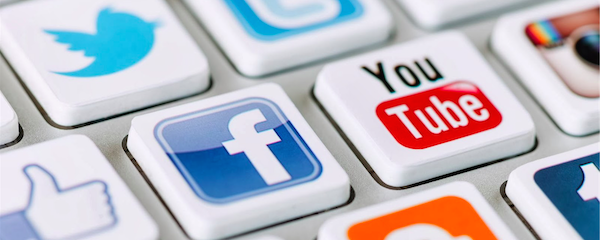 Chances are, you already know that getting a lot of followers on social media is really important if you want your band to succeed. The hard part, however, is figuring out how to get those followers. Where can you find people who are interested in the type of music that you play? More importantly, how can you get those people excited enough about your music to share your information with their friends?
These are common challenges faced by bands everywhere. To help, I have come up with a list of four ways that you can quickly skyrocket your band to success on social media. Social networking can be a powerful way to build a base of fans who are excited about your music and who are incredibly loyal.
Here are some tips to help you get great results:
1. Make it easy for people to find you on social media and to share your content through your website.
You should display follow buttons prominently on your website that people can use to find all of your different accounts on social media. At the end of each of your posts, you should also have buttons that they can use to easily share the content. One of the easiest ways to accomplish this is by building your site using the WordPress platform. There are a variety of different social sharing plug-ins that you can use to make it easier for people to follow you and to share your content on social media. This is a great way to build your following quickly. If you want to make posts look popular, so other people will want to jump on the bandwagon and share, then try Social Shop to improve the post's metrics.
2. Tap into your existing network.
Try to get your friends and family members to follow you on social media and to subscribe to your channel on YouTube. When their friends see them following you, they are likely to check you out as well. This can snowball until you eventually grow your following quite a bit. All that it takes is to get a few people excited enough about your music to share it with their friends. Before you know it, you can be the next big thing. Don't forget to let people who attend your shows know how to reach you on social media as well. You may even want to hand out cards with your social media accounts on them to people at your shows. If you are putting together a mailing list, try to get people who attend your shows to sign up as well. Here are some other ways to leverage your network.
3. Build industry connections.
Be sure to follow your favorite bands, record labels, venues, and other related accounts on social media. Comment on their posts and share their content regularly. They may reciprocate by sharing your content as well. You never know when someone in a position of power is going to discover your music. In some cases, simply having your content shared by an account that has a lot of followers can be just the catalyst you need to start growing your own following.
When you support someone else, they are likely to reciprocate by supporting you as well. The more you interact with the pages that you are following, the more likely they are to interact with your account. The whole point of social media is to be social with others. Don't just sit and wait for followers to come to you. Instead, get out there and start making connections in the industry to spread the word about your band.
4. Consider advertising on Facebook.
Most bands balk at the idea of paid advertisements. After all, there usually isn't a lot of money to go around when you are first starting out. The good news is, when you advertise on Facebook, you don't need a lot of money to get started. You can reach a lot of people for a relatively small amount of money. As long as you target your ads to the right people you can see a dramatic increase in the number of followers that your account has for a very small amount of money. Think of the cost of advertising as an investment in your business. Chances are, you will more than get your money back in the future.