by Ana Grasic, cofounder of WeGrowth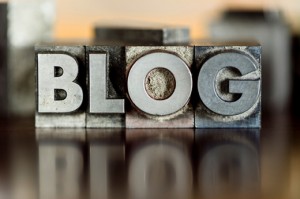 Starting a blog, whether as a business or just for pleasure has been popular for a couple of years now and having a company blog is almost considered a must. However, the huge and growing number of bloggers no matter the niche is mainly because of the great opportunity to earn a decent amount of money online, build brand awareness or just to position yourself as an expert.
Yup, it really seems like everybody wants to get a slice of the pie, before it's all gone. If you want to join the (blogging) crowd as well, you must know the rules of 2017… unless you want your blog to just float around in cyberspace.
Start with a suitable blogging platform.
When joining the world of blogging the first decision you will have to make is where do you want to show off your work. Should it be Tumblr, Medium or Quora, ideal places for social media lovers? Maybe you prefer to go all in from the very beginning and take your blogging to the next level with a customized website? The choice is up to you!
Whatever you opt for keep in mind that in 2017 you won't make it without setting the quality bar high. That means that you should have a strong profile (at Quora, for example), high resolution images and most of all – content that will stand out.
One thing that really made things easier for bloggers that are not into coding are website builders. Many of them have templates or even features made specifically for the purpose to create a blog like a pro web designer!
Be a perfectionist when it comes to user experience.
In 2017 users are pretty much spoiled when it comes both to UI and UX. Surely that will make your job much harder, but you wouldn't want any detail to be anything but perfect, anyway. User experience is one of the crucial factors of your blog's success…or failure. If your readers don't enjoy spending time on your website, they will simply leave. Make your blog easy to navigate, implement features that will attract your users to scroll further and further through your content, make sure the colors are appealing to the eye and the site's background music (if you include it) is relaxing.
Remember – there can be no compromises when it comes to quality.
Like mentioned, the focus of your blog should be on high quality, engaging, relevant content. Whether your passion is to write, share photos, videos or podcasts – keep in mind that content will be the determinant of your blog's success!
Luckily for you, in 2017 tools like BuzzSumo still do the trick. Utilize it to find trendy topics and identify engaging content. The goal is to make your posts seen on the BuzzSumo most shared list, so create articles that are tempting to share via social media. Oh, and when it comes to social sharing, don't forget to include buttons on your site to make this process as easy as possible!
If you impress your readers with innovative or very informative content why not continue with a series of similar tips? That way your readers will stay engaged and hungry for your next article.
Talk to your readers.
Everybody likes a person who is easy going and fun to talk to and so do your readers. Communicate nicely with your audience and they will surely appreciate it. Adopt tools like LiveChat or Intercom that will help you chat 1-on-1 with your users. Maintain a good relationship with your visitors and they will surely spread the word about your work.
Collect more subscribers than ever.
Believe it or not, social media (or "fan") pages for blogs are important more than ever! People actually enjoy receiving updates from the brands and blogs they like and follow, so they are more than likely to click the "like"/"follow" button. Additionally, have a clear call-to-action when it comes to collecting emails on the site. Offering a free guide or an e-book or doing a simple a giveaway still does the trick!
Learn new practices and trends.
In order to know how to deal with all the (almost daily) changes and latest trends in the world of Google, you must first be aware of them. If you want your blog to become a success, you have to stay on top of Google's guidelines, so check them out:
Penguin 4.0 is worth learning about, since this is the algorithm update that fights spam on the web and you definitely don't want to check how well it does it!
Mobile-first indexing is a thing you should take into account when building a website since from now on Google first scans the mobile version of your site and adjusts the rankings accordingly.
Voice search is also a thing you must optimize, since recent Search Engine Land statistics show that they account for 20% of all mobile queries.
Accelerated Mobile Pages, better known as AMP, are used to generate an extremely fast mobile search environment. Integrate AMP to your blog and you can get better exposure in Google's "Top Stories" carousel.
Where does (blogging) money come from?
Unfortunately, there is no secret formula for making millions by blogging, but if your blog is popular enough you should definitely utilize the traffic you are getting and convert it into money. With plenty of advertising options available out there, it is up to you (and the traffic your blog gets) to choose how to monetize it.
Here are the main ones that can still bring money to your bank account in 2017:
1. Good old Google Adsense, Outbrain or Taboola, the most famous third party advertising networks, are platforms you should certainly start earning from when you generate a decent amount of traffic.
2. Although direct ads on the site are a bit underestimated, make sure you have places for banners and other stuff, because if you position yourself as an expert – people will be willing to advertise their products on your blog!
3. Affiliate marketing can bring you decent commissions if you advertise third-party's products or services that can be appealing to your readers.
… all in all.
Even though the world of blogging is changing rapidly, it doesn't mean that you shouldn't try to take advantage of it and stand out among competitors. Embrace the changes and trends 2017 brought about, make sure your blog is appealing, and the rewards can be plentiful!
Ana Grasic is an experienced growth hacker, part of Ucraft website builder marketing team and WeGrowth – a marketplace for professional marketers and business owners looking for services.. Her field of expertise ranges  from SEO, SMM and content marketing to more in depth dealing with customer acquisition. Her knowledge and experience resulted in becoming a regular contributor for several high-quality websites where she helps entrepreneurs to achieve their desired business growth.