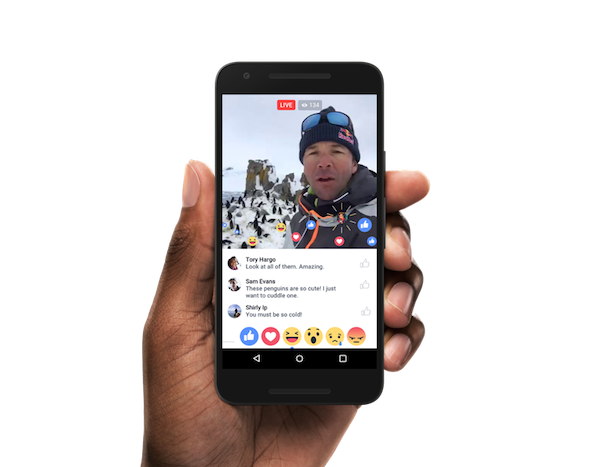 by Amber Henning, Digital Marketing Strategist at Social Eyes Marketing
Live video has definitely captured the attention of the Internet. Specifically, Facebook Live has become a popular go-to for business and individuals alike. Facebook live started back in 2015, with a limited release among verified celebrity pages, but it quickly exploded to something that businesses and the general public could use – for better or for worse.
No matter your opinion, the Facebook Live platform has opened some amazing opportunities for business looking to leverage their online presence for better brand and product awareness.
In fact, nothing has the power to catch attention more than live video. In an already inundated Internet landscape, businesses need to find ways to break apart from the crowd. Your live video can help you do just that. It is more than just a video, it is an event and therefore an experience that you can share with your followers, building their relationship with your brand.
1. Develop a Brand Experience.
If you have a brick and mortar establishment, Facebook Live provides an excellent opportunity to invite your potential customers into your store. Static images and text, try as they might, cannot relay the same experience that video can.
If you have a location, even if it's a warehouse, consider hosting a live event where you can give your potential consumers a look inside or perhaps a tour of the establishment. This will enable potential customers to get a behind the scenes look and, as a result, a more vested interest in your company and your future posts.
2. Conduct Q&A Sessions.
Question & answer pages and FAQs are boring and no one ever seems to pay attention to them anyway. Instead, answer questions during a Facebook Live feed, and get more exposure.
Leading up to the live event, you can ask your follower to submit questions. Let them know they have a chance of having their question answered and they will be more likely to tune in to your live broadcast. You can also encourage watcher to ask questions in live time, and speak to your viewers in a more personal way, endearing them even further to you and your brand.
3. Host an Online Event, Class or a Webinar.
When you provide a value to your followers they respond. Consider providing a webinar or an event to capitalize on the Facebook Live capabilities.
Planned webinars are time consuming, complicated and often they come with an expensive price tag. With Facebook Live, you can reinvent the webinar, and provide something that is easy for your customers and clients to utilize. Short classes can also be offered in the live format.
If you don't have a topic you can cover in a webinar, consider hosting an event like a giveaway. Have people tune in and take part of your event. To get even more engagement ask your current viewers to use the "Invite" button to encourage as big an audience as possible. Watching Facebook reactions as you go can help you understand if your views are getting bored or if they are staying engaged.
Be sure to create an event and market your Facebook Live appearance prior to going "on-air" to encourage greater attendance when you hit the waves.
4. Announce a New Product or Promotion.
When you have a new product or service to launch you can capitalize on the excitement and garner some attention by using Facebook Live. Build the excitement leading up the announcement and sensationalize the event in any way possible.
Allowing your customers a peek into your launch will make them feel like VIPs. When possible, answer their questions and address their comments, so they feel that they are really engaged in the company and the big news.
5. Use Facebook Live with Groups.
Facebook live is usually posted on your page, however, you can post live videos to groups as well. If you have a Facebook group that relates to your business consider creating a regular Facebook Live broadcast. People who are already in a group already have a vested interest in your company, but this will deepen the relationship and allow you to get to know your followers even better while creating brand loyalty that cannot be beat.
Remember that anyone in the group can do a live broadcast, so review your setting to make sure they are restricted as needed.
It can be intimidating but don't be afraid of Facebook Live. The way it opens up communication with your customers and potential followers gives you leverage in advertising that businesses simply have not had before. By using Facebook Live you can speak directly to your customers, endear them to your brand, all while demonstrating your place and relevance in the online community.
Amber Henning is a Digital Marketing Strategist at Social Eyes Marketing, a full-service digital advertising and web design company. She has run successful Facebook profiles and campaigns for politicians, businesses and organizations such as the American Cancer Society. She is passionate about helping businesses and organizations succeed, especially online.