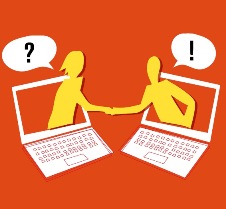 In e-commerce, retaining customers is essential to the survival of your business. It has long been known that keeping a customer is much cheaper than acquiring a new one, as those customers tend to be far more receptive to sales and promotions after they have made an initial purchase with you. Retaining a customer involves keeping them engaged, anticipating their needs, and making sure your brand stays at the top of their mind whenever they are thinking about purchasing again.
Among many other strategies employed by e-retailers, improving the customer experience seems to carry a significant weight in increasing revenues. A survey conducted by Harris Interactive in 2011, revealed that 89% of consumers would move on to another company due to a poor customer service and that 25% of consumers would gladly pay more for a pleasant customer experience. This information is especially important for internet based businesses as the competition is so fierce for eyeballs in the digital space.
Here are some of the practical and creative ways to improve your customer's online experience:
1. Engage your customers.
In this age it technology has made customer engagement quite simple. By using CXM (customer experience management) software, it is possible to implement a total customer journey that takes them through purchasing decisions, price inquiries and the actual purchasing. For instance, a system designed for purchasing shoes online could offer the features like online advertising, online price inquiry through ordinary mobile devices, apps with fashion tips on the same item, review section after sales and reward system for customer loyalty. Go ahead to include how-to-videos on the website that demonstrate proper use of products.
Any issues with products should be responded to in less than a week. Research shows that 33% of consumers would readily recommend a brand which provides a quick response even if it was ineffective. Also, provide a physical location where the products can be found. Most people would prefer to view a product physically prior to an online purchase.
Create a friendly customer service tone that appeals to their character. The client should feel like there is a real person behind the transactions they are making and not just a mechanical operation. They should feel like they spent their money on a brand that cares for their needs.
2. Make their lives easier.
The absolute best way to retain a customer is to make sure that every step of the way through their journey with your business, their needs are met and expectations exceeded. If your shipping estimate is 1-3 days, make sure it gets to them overnight. Find ways to improve speed and quality at every turn.
An example would be the beauty industry. Customers are normally used to making an appointment over the phone, with the problems inherent in that, such as being put on hold, having trouble hearing the receptionist in a noisy salon, and even just the need to call within business hours. If you can change that customer journey from a call into a few clicks on the screen of their phone, then you've already taken a big step toward retaining that customer. Into that gap in the market stepped online booking portals for the beauty industry, such as Bookwell. When you remove pain points from any customer journey, you are ultimately going to increase their satisfaction with any service.
3. Understand your customers.
Connect with your customers by empathizing with their situations. One way of doing this is dividing your clients to groups and assigning personas based on their search preferences and personality from previous experiences with the customer support team. By performing internet path analytics on websites, it is possible to monitor brand preferences of the customers. Define persona preferences for general and specific sites, platform usage and brand preferences. This can be useful in email marketing. It gives the transactions an emotional feel that keeps the consumer at ease.
4. Reward loyalty.
As documented by Reichheld Frederick and W. Earl Sasser, Jr., "Quality Comes to Services" a company's most loyal customers are also its most profitable. Rewards could include loyalty points after every purchase that can be accumulated and redeemed at a later date for other products, discounts or events. Organizing fun events for customers who have reached predetermined loyalty thresholds could also help in customer retention and build consumer trust. It could inversely work to draw in new clientele through existing customer networks. Another way of rewarding could include offering discounts for certain volumes of purchases or gifts accompanying certain slow moving items. This influences customers' purchasing decisions. However, ensure the value created for the company is greater than the value delivered to the consumer in order to realize profits. Remember the true value of the reward can only be achieved if the loyalty system is sustainable and fair to everyone in the long term future of the business.
5. Maintain multiple channels of communication at all times.
Provide easy ways of reaching the customer service team. Phones are the most common means of communication. For larger companies dealing with multiple products, using call centers could help manage the large numbers of callers. Emails also provide an alternative communication channel that helps customers with larger inquiries. It can also be a great advertising tool and a means for tracking customer loyalty. It can also help in assessing client persona for specialized customer experiences. A study by Econsultancy revealed that 60% of customers preferred using email to seek support. Live chats were preferable to 57% and FAQs by 51% of consumers.