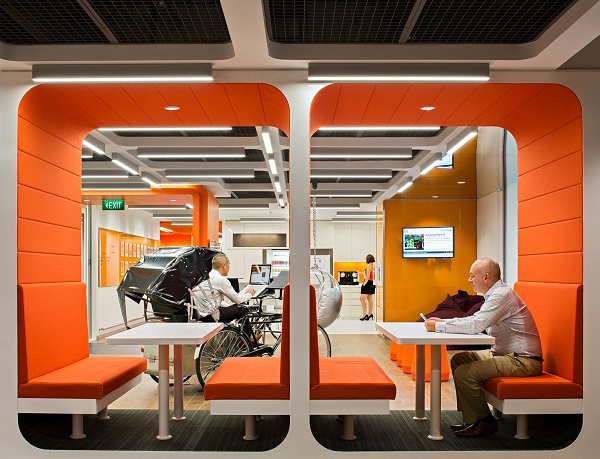 In 2016, the corporate world continued to adapt to the increasing number of remote and mobile workers. It hasn't always been easy, particularly for bigger businesses, but statistics show that flexible employment models can contribute to higher levels of productivity. The challenge is determining where the traditional working environment belongs in this new hierarchy.
Contrary to what you might expect, 2016 actually saw many businesses invest more time and money on commercial interior design. As working models grow more flexible and dynamic, the importance of a strong, cohesive brand image is amplified. The workplace now has to cater to and unite many different forms of activity, so it must offer a sense of stability.
This guide to the biggest office design trends to look out for in 2017 will help your business get ready for the year ahead:
Disappearing Files.
These days, even intensely regulated industries like the finance and health sectors are starting to rely heavily on cloud storage. There just isn't any need for most businesses to keep physical copies of their documents anymore. It takes up valuable floor space, which could be used for more valuable purposes, and it is extremely inefficient. Companies can save a remarkable amount of money, each year, if they bypass printing and store data in the cloud.
Shared Desk Space.
One way in which businesses are adapting their physical designs to match the popularity of remote work is with shared desk space. In other words, it is becoming more common for there to be fewer desks than people. After all, if a proportion of the office is out working from home or other sites, individual desks are a waste of space. Adjustable furniture (from sitting to standing) and data integrated tables support fluid, flexible activities.
Say Hello to Nature.
This is a really big trend and one which will come to define 2017. Already, we're seeing a lot of businesses taking steps to incorporate natural elements in their workplace designs. From salvaged wood to living walls, indoor water features, and rooftop gardens; the aim of the game is to take the office back to basics. This is a huge benefit not just in terms of sustainability targets and brand reputation. It also helps employees to feel calm, happy and relaxed.
Adaptable, Modular Furniture.
The trend for co-working spaces has been a key feature of contemporary commercial design for some time now. Businesses are really starting to understand the value of choice and variety. Different tasks require different approaches and a combination of shared and private environments are the best way to ensure that the right method is always available. The rise of adaptable, modular office furniture is the next stage in this collaborative evolution.
Inspiring with Colour.
While the use of attractive, mood-boosting colours has always been encouraged in most workplaces, there has been a rise in the number of businesses using colour more directly. Rather than opting for a streamlined office, with a singular decorating scheme, they're taking inspiration from brands like Google and creating mood hubs. They might, for instance, have a soothing blue or green room for computing tasks, a more vibrant space for meetings, and lots of earthy greys and browns in the leisure areas even with the types of rugs you choose.
Why Office Design is Essential for Productivity.
Whether you operate a very traditional working model or you split the office between remote and fixed employees, it's important that you provide a space which everybody enjoys. It should represent the values that you are trying to convey. If you care about the environment, show it by bringing nature indoors. If you want your team to feel free to experiment, introduce collaborative environments and flexible, adaptable workstations.