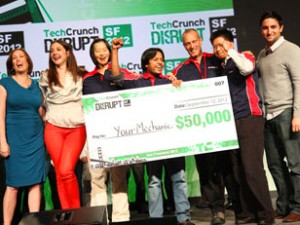 Innovation rarely exists without inspiration. The best entrepreneurs and innovators draw inspiration from everyday life – and then they exhibit their forward-thinking results at the following conferences and expos.
The rest of us can also take note, be inspired to go on and create our own innovations.
Attending CES is like being in the epicenter of innovation. Here, you'll find products and technologies that are at the cutting edge of their industries before they hit the market.
Location: Las Vegas, NV
Dates: January 5-8, 2017
Transportation options: There are many transportation options for CES Las Vegas, but they vary in price. The cheapest, and possibly best, way to travel is the CES Shuttle.
SXSW takes a closer look at the significant technologies of today and what will be trending in the future. Sessions include new ideas in the United States and internationally.
Location: Austin
Dates: March 10-14, 2017
Transportation options: If you're staying at an area hotel, there may be a free shuttle to SXSW. Other options include Car2Go, Austin B-Cycle (street bike rentals) and Pedicabs.
Whether you're in the tech industry or not, you can benefit from Techweek. This expo will give you insight on emerging tech trends while you rub elbows with other techies. Just imagine the creative sparks flying with so many great minds under one roof. If your startup is in the tech industry, this is also the perfect place to find new talent.
Locations and dates: Miami, May 1-7; Detroit, May 19-25; Chicago, June 23-29; New York, September 29-October 5; Los Angeles, November 17-23
Transportation options: Transportation options vary based on city of attendance.
With events in major cities around the world, Social Media Week brings people together in person and online. And while you're networking, you'll learn from other startups and established businesses that are connecting businesses with customers in new and innovative ways.
Locations: New York, Tokyo, Milan, Hamburg, Copenhagen, Barcelona, Bangalore
Dates: February 17-21
Transportation options: Transportation options vary based on city of attendance.
Incite is the ultimate interactive conference. You can even help build the agenda. As an attendee, you'll have a say on who speaks and the topics they cover. The Incite Summit covers everything from marketing to publishing and customer experience.
Location and dates: San Francisco, May 13-14; Europe, June; New York, September 18-19
Transportation options: Transportation options vary based on city of attendance.
Love it or hate it, SEO is something that every entrepreneur must learn. And there's no better place to learn and/or hone in on your skills than MozCon. You're not likely to find this many SEO, social media and content experts under any other roof
Location: Seattle, WA
Dates: July 14-16
Transportation options: Seattle has a system of buses and streetcars that can get you to and from MozCon from wherever you decide to stay.
Especially for small businesses, customer experience is everything. It can make or break your business. This conference is designed to help small business owners learn how successful C-level executives have implemented practices to improve customer experience.
Location: New Orleans, LA
Dates:
Transportation options: New Orleans has bikes for rent and pedicabs for hire, if your hotel doesn't have a shuttle to CX Impact.
Mobile technology is growing at a lightning-fast pace, and it is now a crucial part of almost every business today. At the VentureBeat Summit, you'll be the first to see the most exciting mobile developments. It's an application-only event, but the reward is worth the effort.
Location: Sausalito, CA
Dates: April 14-15
Transportation options: The Cavallo Point Lodge offers free parking for attendees, so car rental may be the best option.
The Atlanta International Gift Show is a no-brainer for entrepreneurs in the retail space, but it can be beneficial for almost anyone. This gift show blends fashion, technology and home décor trends all under one roof.
Location: Atlanta, GA
Dates: February 1-5, 2017
Transportation options: Even you aren't relying on the Gift Show shuttles, it's still relatively easy to get around. Atlanta has buses and a rail system (MARTA). And if you're stuck, there are always taxi cabs or Uber rides.
Kicking off with a hacking endurance test, TechCrunch Disrupt is a high-energy conference unlike anything you've ever seen. Products are literally created overnight, rock star speakers take the stage and new startups pitch their ideas.
Location: New York, May 15-17, 2017; San Francisco September 18-20, 2017
Dates: May 5-7
Transportation options: Transportation options vary based on city of attendance.