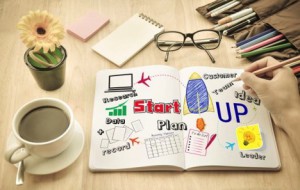 We now live in a sharing economy where the threshold for starting your own businesses is lower than ever — if you're willing to put the work in. In 2012 alone, more than half a million new businesses were started. And that number shows no sign of slowing down. Not only are more people taking the leap and launching their own startups, but they're doing so at younger ages. Companies with an average age of 26-34 have the highest median funding, and one-third of all startup founders were between the ages of 20-29.
Crowdfunding makes it even easier to put the word out there; Kickstarter backers pledged more than $529 million in 2014 (more than $1,000 per minute).
While now is a better time than ever to launch your own startup, it's important to understand that competition in the startup space is fierce. Thorough research is necessary to determine how viable a product or service is. Fortunately, we've done the work for you. Here's our roundup of the top tech startup ideas for 2017:
Open Publication Platform.
Blogging platforms are aplenty, but there's a unique selling proposition to platforms that allow the average Joe to publish material. This doesn't mean that a website is completely open to publishing rubbish; typically, publications that allow user postings have their own set of guidelines and standards, and reward good writing and journalism with front page statuses.
This is exactly what BuzzFeed and Medium did. Medium, which is just a 5-year-old company, started out as an invite-only blogging platform in 2011 before it opened up to everyone in 2013. Now, it has become the "it" place for your voice to be heard. It considers itself the "op-ed" version of the Internet, and for good reason.
Buzzfeed, on the other hand, takes a different approach to user content. Its "Community" area allows anyone with a free Buzzfeed account to publish content, and pushes great stories to its front page, where it can receive even more facetime and potentially go viral.
Start a Program.
This is a perfect startup opportunity for founders who have a specific set of tech skills and want to teach others how to use it. Programs like Girls Who Code and CodeChix advocate for young women who want to learn coding and teach them how to use PCB design software, build mobile apps and games, and utilize many other programming skills.
There are many other oft-forgotten areas where technology can be implemented: journalism, filmmaking, architecture, and design among them. While this space is not yet crowded, taking the same principles programs like Girls Who Code and General Assembly were founded upon and applying them to other educational areas has huge potential, and is worth exploring — before someone else does.
Subscription Boxes.
The monthly straight-to-your-door subscription box craze is alive and well. And while more companies join in, it's not yet too overcrowded. The premise for these startups is simple: a subscriber signs up for a monthly package (which sometimes includes tiers) that includes products they're most interested in. Some popular startups in the space include:
Bark Box: Pet-themed products for your dog.
Birch Box: Five beauty products (tailored to your skin and style).
Globe In: Handmade, artisan gifts from around the world.
Graze: Healthy, delicious snacks.
Dollar Shave Club: High quality, low-cost razors.
MistoBox: Personalized coffee grounds.
There aren't too many tech-focused subscription boxes on the market; now is a great time to cash in on a growing trend.
Curated Ecommerce Sites.
Got a niche for a certain type of technical product or service and think you can really sell it? Go for it. Curated ecommerce sites are a more simple, low-cost way to launch your own startup. Consider it an online version of a shopping boutique. These ecommerce businesses cater to a specific audience, allowing you to hone in on a type of product (or curated list of services) that doesn't have a solid place elsewhere. Strong visual assets are key for launching successful ecommerce sites. Net-a-Porter and Lyst are popular brands. A few more examples include:
Product Hunt: Dedicated to techies who want the latest in gadgets, games, and gizmos.
AHALife: Curated, one-of-a-kind luxury items.
Artsy: Resource for art curating, collecting, and education.
ShopStyle: Fashion items curated by POPSUGAR editors.
Fierce PC – Selling Gaming PCs online.
Social-Based Anonymous Applications.
There's something about remaining anonymous that appeals to a large user base. It's because of this that apps focusing on anonymous social interactions have done well — like Omegle, YikYak, and Chat Roulette. And wasn't this the entire premise behind the hit television show, Gossip Girls? An application that allows people to talk, pick up tips, and even flirt anonymously would certainly appeal to a high school and college demographic. Why not create an anti-Tinder mobile app, where you meet friends and potential dates without judging them by their photos? Sounds like a blind dating app waiting to happen.
The possibilities here are endless.