by Nate Vickery, editor-in-chief of Bizzmarkblog.com
With the development of technology and tech industries, all aspects of our lives are irrevocably and permanently changed. Just think about our everyday lives! We usually take for granted that technology is now advancing more than ever before – changing our environment, making us more connected, changing the way we work, play and eat. Yes, that's right! New technologies are definitely changing our old habits, but they are also transforming our industries. The restaurant industry is one of them.
When it comes to the restaurant industry, on the surface it seems that it hasn't changed much over time. Many restaurants still rely on very basic technologies, but there are plenty of them which have taken advantage of the latest advancement in technology. For example, many restaurants now feature online menus, online ordering or online reservations.
Furthermore, the restaurant industry is now unimaginable without restaurant software systems, mobile apps, social media campaigns or automated services. And what about those in the industry who wait too long? They are simply left behind by both the competition and customers.
Having that said, let me show you 4 ways you can use technology as part of your success recipe:
Online payments.
Today's consumers are slowly moving away from using cash, or even credit cards, as their central currency and adopting more advanced forms of online payments such as Apple Pay, Samsung Pay or Google Pay. It is crucial for restaurants to integrate these payment methods in their everyday business in order to accommodate to users.
Especially younger ones! Maybe they are not the biggest spenders at restaurants because of their income, but they are dining out regularly. They have the tendency to use restaurants as a place to gather with their friends, so it's of great importance for restaurants to know their needs and their unique way of socialising. So-called Millennials, who are currently between the ages of 20 and 35, tend to see technology as their most defining characteristic, so making available for them to use new online payment methods is very important.
Automated services.
In some years from now, maybe we will be experiencing a kind of revolution in the restaurant industry. Our restaurant experience is perhaps going to be fully automated in a near future.
Nowadays, automation is slowly transforming the restaurant industry. Online reservations, touch screens that enable you to customise your meals, new online paying methods, just to name a few automation processes that will change the way our restaurants function. A major reason why these technologies are successful today is consumer preference. Simply put, consumers appreciate the speed, order accuracy and enjoyment of using touch screens, for example, when ordering food. Believe it or not, but Millennials will be very satisfied with the opportunity to implement these technologies in their restaurant experience. And you, as a restaurant entrepreneur, will get increased productivity, reduced costs, and satisfied and loyal consumers.
Employee productivity.
Before we enter the era of fully automated restaurants and robots that prepare your delicious meals, having a hard working employee is key to maximising your restaurant success. When your staff works hard, then your customers are more happy, more loyal, and definitely much more likely to return to your place. And how can you use technology to improve your staff productivity? Let me show you.
The most important task any restaurant must cope with every single day is proper scheduling. There are cloud-based software, for example, that enables you to take full control of maybe the most difficult task you face every day, and that's work scheduling.
There are so many positions to manage – servers, kitchen staff, bartenders, dishwashers – so many tasks to be completed, so many details. Take kitchen labour shifts. With cloud-based software that will help you manage it easily and more accurately, both you and your kitchen staff will be more relaxed, spending less time scheduling and more on customer satisfaction. It will greatly improve your business and will keep you ahead of the competition.
More consumer data.
And finally, another great way to use technology in your restaurant business is to gather and interpret mass customer data. What that exactly mean? It means that restaurants could greatly improve their service by capturing all kinds of information with the right technology. From the type of people you serve at your restaurant to the types of food they like to eat, how satisfied they are with your service and how often they return to your place, all the information is very valuable, especially for small and local restaurants.
By leveraging consumer data, restaurants can make more personalised recommendations, inform their customers about new meals or drinks, or offer them promotions that are most relevant to them. Also, having feedback from your customers can truly and immensely improve the quality of your service.
It seems that technology and restaurants are rapidly co-evolving together. Consumers want to see new technologies become part of their restaurant experience, and restaurant entrepreneurs and employees want technology that will bring them less stress and more productivity and success. Now you see that all this is possible!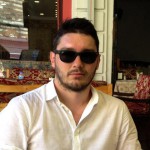 Nate Vickery is a business technology consultant mostly engaged in management and marketing for SMB and startups. Nate is also the editor-in-chief at a business oriented blog Bizzmarkblog.com.