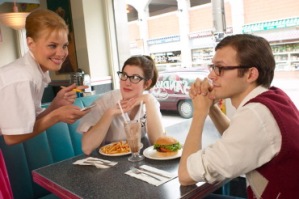 As a business owner, you should always strive to make sure that your customers enjoy a positive experience. Whether they're visiting your shop, booking something online or simply calling to find out more, you need to leave a good impression. We live in an age where it's easier than ever to communicate with clients around the clock.
If you're eager to improve your customer's experience, here are some tips to make your business more interactive:
Your website.
Your business website shouldn't just be about showcasing your products or services. It should also provide a wealth of information about who you are and what you do. It should be easy to place an order or to find the answer to a question. Once you've got these bases covered, go a step further. Set up a live chat feature, or add an online enquiry portal. One of the main reasons people don't complete a sale is because they've got questions. If you can answer these questions on live chat or send an email when you pick up the customer's message, you'll increase sales. Another effective way of interacting with customers online is to encourage them to leave comments and feedback. You can do this by setting up a testimonials page and replying to clients that leave a review.
Social media.
Social media can be an incredibly effective marketing tool. As well as drumming up interest in your business, it can also provide a useful platform for communication. You can chat to potential clients, answer questions, and respond to feedback. If you're new to social media, do some research to find out which kinds of sites would work best for you. Set up your profiles, and start spreading the word by asking people to like your page. You can the start posting to get people interested in your business, and hopefully, this will lead to sales. Don't forget to link your pages to your website. Check your accounts frequently. Clients won't be impressed if they've messaged you, and it takes three days for you to respond.
Telephone.
Consumers today are familiar with round the clock communication. If you don't have somebody manning a telephone at all times, there are solutions. Do you run a clinic, for example? If so you could invest in an HIPAA compliant medical answering service. This innovative technology takes your calls for you. This means that you don't need to worry about missing potential sales opportunities. Alternatively, make sure you record a voicemail greeting and encourage people to leave a message. Using a mobile out of hours is another option if you have a small business.
When you go into business, your success will be dependent on sales. To generate sales, and keep customers coming back, you need to provide them with a positive experience. Communicating with clients is essential. Often, you'll find that consumers want answers before they buy. They may want to talk to you before they make a decision about which company to go with. Make sure you're available, and you make the most of interaction with potential clients. You can use your website and social media accounts to chat online. You can also take advantage of answering services or use a mobile phone to make sure you don't miss valuable calls.