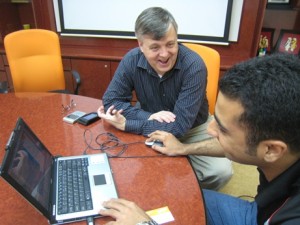 Having total control over something can be exhilarating. And this is especially true with entrepreneurship because of the sense of freedom it offers. But too many new entrepreneurs make the mistake of trying to do everything on their own. It may work for some people, and there are special cases where brilliant thinkers hit the jackpot at the right time. However, in general, working under a mentor offer benefits that are too many to overlook.
Here are five reasons why every new entrepreneur should get a mentor:
1. Valuable Source of Knowledge.
Mentors have been through things that novice entrepreneurs have not. Because they have been in the business for a long time, they have been through trials and errors and know the nooks and crannies of the business. Because they are qualified, they are able to guide entrepreneurs to the right path in the business and help them identify mistakes to avoid at all costs. As a valuable source of knowledge and experience, mentors are able to enrich the minds of entrepreneurs with do's and don'ts. This gives entrepreneurs a big jump start in the business.
2. Support System.
Mentors know what it's like out there and they know that times get tough, but they also know that it's important to stick it through to the end. Because they have this knowledge, they become, and act like, a support system that offers crucial encouragement and hope during times of need. In business, there will be many failures before any success come along the way, if any. But mentors have been through all of that so they understand and can relate to their fellow entrepreneur students. Words of positivity go a long way in defeating the feeling of loneliness in the dark business world.
3. Trusted Advisers.
Business is a world full of tricksters and it can be hard to trust in people in this type of environment. Furthermore, you cannot ask advice from direct competitors for obvious reasons. Yet again, this is why having a mentor is vital. Mentors become the people entrepreneurs can trust because they have nothing to gain from lying. Mentors become a shoulder you can lean on and seek advice from. They are there to listen and offer their opinions and advice when your back is to the wall.
This is especially true when it comes to consulting. Even though consulting is considered a very competitive business, consultants are more likely to agree to mentor new consultants since education is the core purpose of their businesses. Digital marketing consultant Sam Ovens, out of Auckland, NZ offers mentorship to those in need and many other consultants are open to the idea, so don't be afraid to ask.
4. Important Source of Networking.
Networking is undeniably one of the key aspects for entrepreneurs. It's one of the major ways they can get their business to thrive. Mentors know and have access to other people who are also in the industry and can bring their apprentices closer to their target audience. They are the most accessible source for networking events and opportunities to their entrepreneur students. It's so much more difficult to search for such events alone, without having any idea where to start.
5. Disciplinarians.
Sometimes, it's difficult to keep oneself in check which is why mentors are there for that reason. They understand that self-motivation and self-discipline are challenging, but also very important. They are the ones who can set the boundaries in order to instill good work habits for their entrepreneur students.
It's blaringly obvious that mentors are the backbone to success in business. Although working alone may sound very appealing, it's just not realistic. Entrepreneurs need mentors and they shouldn't set foot into the business field without one. However, before you start seeking mentors, make sure that you are worthy and prepared first. Make sure that you are very specific about what you're expecting from your relationship and don't be afraid to ask if you find someone you feel would make a good mentor.