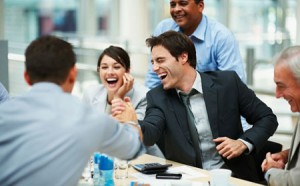 There's nothing more damaging to a working environment than demotivated employees. You'll spot them stomping in on a Monday morning looking less than impressed, and daydreaming their way through the rest of the week.
There are plenty of warning signs, but what's more difficult is knowing how to get them working happily and productively again. Leave them to wallow and their demoralisation will quickly spread to the rest of the team.
As the boss, it's your responsibility to look after your employees, but it's also in your best interests. Uninterested and bored staff will plod along doing the bare minimum of work, whereas a buzzing, happy workforce is far more likely to go above and beyond.
Whilst it's tempting to blame a lacklustre atmosphere on lazy staff, the truth is that you have to create a business people want to work hard for. With this in mind, we've highlighted three simple ways you can create an exciting and friendly atmosphere to inspire your employees:
Invest in your workforce.
Your love for your business might be enough to see you through late nights and stressful situations, but it's hard to find staff who'll automatically feel the same way. Employee benefits are a great way of motivating people to join your company, and then to continue working hard for you.
Investing in employee development is a great incentive. Helping your staff grow their professional skills will boost morale, and create a more knowledgeable workforce with the expertise to keep your business at the cutting edge of its industry.
You can provide in-house training but there are plenty of distance learning courses available online that'll provide employees with an accredited qualification. They'll be able to study around their current schedule and add value to their CV afterwards.
Provide the best.
Recent research from Sharp suggests that slow and inefficient technology causes the average UK office worker to waste 21 days each year. That's a lot of dead time.
Besides that, the frustration of dealing with computer problems does nothing for motivation. If your equipment hasn't been modernised in years it could be causing your employees a whole load of hassle they could do without.
Investing in the latest technological advancements should be top of your list so that you don't lose employees or valuable trading time. It can be as simple as updating your systems, incorporating cloud technology, or making sure you've got the highest speed internet on offer.
Embrace flexible working.
A skewed work life balance is one of the biggest criticisms unsatisfied employees have, but knowing how to address it can be difficult. Sweden is currently making headlines for tackling this very issue.
The country recently showed support for six-hour working days after an experiment proved that shorter working hours make staff more productive and less stressed. Although this policy would definitely be popular with employees, it's probably not feasible as a small business owner.
One way you can embrace healthier working patterns is by implementing a flexitime policy. It's good for productivity but also builds trust by allowing employees increased flexibility and choice.
If a lack of effort and motivation from employees is stalling the growth of your business, making changes in these three areas could give them a much needed boost.