By Lou Casale, Head of Communications, Hiscox USA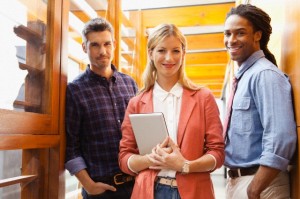 More than one-in-three American workers today are millennials, and this year they surpassed Gen X to become the largest share of the American workforce, according to an analysis of U.S. Census Bureau data by Pew Research Center. While many millennials have gone the more traditional route of working for an established organization, others have elected to start their own business. According to the eighth annual DNA of an Entrepreneur study by Hiscox, America's #1 online small business insurer, the majority of millennial small business owners always thought they'd start a business one day and, according to the study's findings, are working hard to excel in the small business world.
Millennial small business owners work long hours, but their dedication is paying off – 83 percent experienced growth in revenue for their business over the past year, compared to 70 percent of respondents across all age demographics. Additionally, 63 percent believe their financial situation has improved since last year.
Here are some important tips for millennials who are considering taking the courageous leap to start their own business:
1. Get started with the right partners.
Whether you're looking to turn your business into an LLC or secure a loan, you're likely going to need to outsource some aspects of establishing and running your business. Visit the Hiscox Small Business Resource Center, which provides information on companies that can help you take your business to the next level.
2. Tap your network.
As a millennial, you are likely still in contact with your friends from college or high school – target them as potential clients or even employees. They can also be helpful in spreading the word about your company both offline and online. Stay active in your alumni networks and seek out mentors. LinkedIn and other social networks provide an easy way to stay in touch. 
3. Focus on sales and marketing.
Make sure you have a strong sales and marketing plan in place that outlines goals and ways to achieve them before kicking off your business. Think about how you will most successfully reach your target audience, and make sure your business has a social media presence, focusing on the platforms that your potential customers are most likely using. Get involved with your community by sponsoring a local event to spread awareness for your business. Also think about your public relations efforts – promoting your story via local and industry media will only help grow your sales!
4. Measure what you value.
Monitor metrics across all aspects of your business – whether it's the amount of time or money spent to complete a project or the cost of customer acquisition and customer retention. Knowledge is power and this data will help you better understand your business's strengths, weaknesses and opportunities.
5. Stay flexible.
No two days are the same as a small business owner. Have a flexible schedule – you never know when issues will arise or you'll need to put more hours in. Also be prepared to have a flexible role within the business – one day you may be working on your company's website, and the next you're handling the books.
6. Protect your business.
Purchasing the right insurance policy is one of the most important things you must do before launching your business – make sure you choose one that's tailored to your specific business practices. If you plan to hire employees, you will need to purchase workers' compensation and unemployment insurance. Most small businesses should also have general liability insurance, which covers property damage, bodily injury and personal injury to yourself or a third party. Businesses providing a service should also consider purchasing a professional liability policy, which will cover you if you are sued for negligently performing your services, even if it wasn't your mistake.
7. Keep Learning.
Intellectual curiosity is especially important as a small business owner. You need to be ready to learn about all facets of your business – from daily operations to interacting with your customers, as well as evolving market trends. Without management or an HR department to keep you accountable, you're also responsible for your own professional development. Proactively seek online classes or events that will help you expand your skill set.
Lou Casale is head of communications at specialist insurer Hiscox USA. As a marketing and communications expert, he has created transformative programs for Fortune 500 corporations, startups, and C-level executives.  He is a recognized thought leader across all facets of communications, from reputation management and media relations to digital and social media.