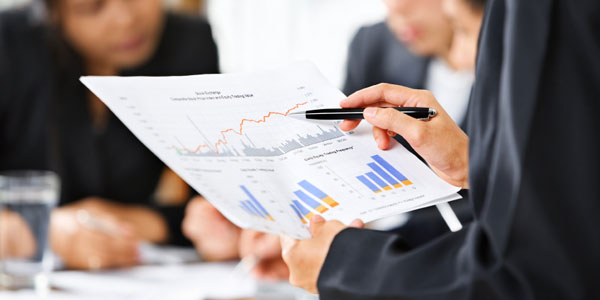 When a business has been launched and is starting to reach a customer base, it can feel like the calm after the storm. After all the weeks and months of worry, your baby is out there, and you're working on something you love. The fear and stress begins to recede as you fall into a new working life, satisfying customers and focusing on repeat business. It's a wonderful time, and one you should enjoy.
Fast forward a couple of months and you're into a new quarter. It's time to look through everything that happened in the initial quarter. Sort out your paperwork, chase up any unpaid invoices, get a hold of your business credit reports and check everything is it should be.
Ideally, when you look over all of this red tape, you will see positive signs. Perhaps you are ahead of your forecasts, or there is scope in your schedule to take on more work. It finally looks like all the effort of striking out on your own has been worth it.
With things looking good, it's only natural to start thinking about next steps. As an entrepreneur, this seems sensible enough decision to make. A key part of running a business is in looking ahead and making sure that you have planned for the future. You have to be able to anticipate ideas and react, always knowing where you are going rather than focusing on the past. With a good opening to your business, it's tempting to start looking at what comes next.
No one wants to be a doom monger, but hold yourself before you push ahead. When you created your business plan, you chose the expansion plans for a reason. Don't suddenly discount those decisions in the face of doing well.
Try and see it as things are going well, so you should be continuing as you are for the moment. Yes, you want – and need – to move on to the next phase, but jumping the gun is dangerous. For a start, you may be experiencing an early success that you're not actually going to see continue. Every business goes through boom phases; you need to see that the growth is consistent before you start making plans.
It may seem to go against your general spirit. It may seem that you would be better off making hay while the sun was shining, and that you should seize every chance you get. However, plenty of business owners have accelerated their plans – and soon, they are not business owners anymore. Bank the profits, keep working hard and focus the extra effort on building a customer base.
If you didn't have any plans for expansion in your business plan, then it's time to rewrite it after a few months on the job. You need a clear idea of where you're going, and then you stick to it. You're in this for the long haul, and as a general rule, don't expand until you can afford for it to fail. That may sound a little pessimistic, but it's healthier in the long run.