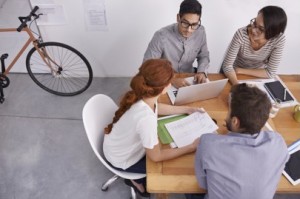 When you take the brave decision to run with that start-up idea that has been burning at the back of your mind, you don't want anything to ruin it. Knowing ways that you can minimize risk and keep things running smoothly is hugely useful to any new business owners.
With this in mind, here are the top three suggestions for improvements you could make to your business, keeping it going from strength to strength.
1. Invest in your staff.
Next to your equipment, your staff are the most important thing you will ever pay for in your business. To start with it may be just you, but as you grow as a company you will undoubtedly need to start hiring. When the time comes, it is vital that you don't pay low wages and take second-rate or even third-rate workers just to save a few pennies.
While it might seem like the best decision in the short-term, these people will be dealing with your clients every day; do you really want a second-rate version of your business being delivered to potential customers? It could impact on your reputation, but it will definitely impact on your productivity as a business, so select the right people and train them well. If you'd like to learn more about this idea, click here.
2. Keep IT support close by.
No matter what your industry, chances are that you will most likely need IT support. Do you have a team of five or more people? Then you should probably start thinking about running off your own server to increase efficiency and give your team the ability to share files. Are you an ecommerce business? Then you will most likely need an IT team for when your site goes down, your ordering system goes haywire and so on.
Even your company smartphones and phone systems all need to be coordinated via the workings of an experienced and skilled team, such as Dynamic, who provide expert IT support in Leeds. If you invest correctly in IT, your company will run smoothly, your workforce will be less frustrated by any technical issues they have, and ultimately, your customers will be happier.
3. Take a firm approach to finances.
So far we've talked about investing your money in the right places, but what about making savings and knowing where to cut back? After all, you won't have the money to invest if you don't take care of your finances.
First of all, know every aspect of your business inside out; you know exactly what is being spent in each area of the company, and can see if you are being too zealous when buying a particular product. Then look at writing up road maps of where you intend your business to go over the next five years. Having a goal will allow you to focus on where you're headed, and make it easier for you to see where you're under-achieving financially.
Do you have any more tips for start-ups?