Wisdom With Age, Making A Career Change After 40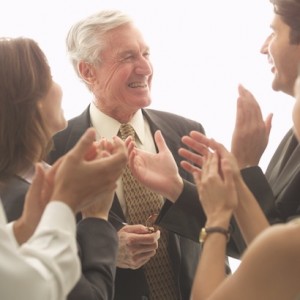 You've worked hard for many years dealing with traveling, time away from home and the demands of a high-pressure environment. Now that your older, you want to take back your life and enjoy more time with your spouse, family and friends. This is a scenario that many people just like you face each day. The decision is life altering and can mean a fresh start at the prime of your life.
When you reach a certain age, you can fall into a rut and begin to wonder why you are doing the job you're doing. You ask yourself, "Is this really what I want to do for the rest of my life?" Sometimes you may even feel overwhelmed at the thought of heading off to work. This feeling is common to many people who turn 40. The good news is you can make a change. You can start anew and enjoy the rest of your life.
The first thing you need to do is figure out what you want to do. What are your interests and strengths? If you've worked in an executive position and know how to manage a company you may want to develop your own. You can do this by creating your own website and selling a product or service.
Freelance work is available in a variety of fields. You can take something you are passionate about, like art, and turn it into a career. This allows you to work from home and develop your own work schedule. It also gives you the satisfaction of knowing you're working for yourself.
If you prefer to work away from home, going back to school is another option. Take a few classes on topics that interest you. It's not too late to learn a new trade or profession and move in another direction. Doing this can actually give you energy and purpose.
Now that your children are older, you have the freedom of working any hours. This opens the door to many careers that you may have avoided in younger days. Maybe you enjoy working with people and want to become a mortgage broker, counselor, nurse, trainer or analyst. The important thing is to find something that excites you and that you feel passionate about.
If you need the income and can't just walk off the job to achieve your fresh start, create a plan with timelines. Take night classes or work on your website while you continue to work in your current job. This will allow you to make the transition without lowering your current standard of living. It will also keep you going knowing that your new life is just around the corner.
Making a career change later in life can both excite and frighten you. This is a perfectly normal reaction. Take the risk and enjoy the pluses of starting over. If you stay in your current position, more time will pass and then you'll live with the regrets. You'll always wonder what could I could have become. The only way to change your life is to take the plunge. If you fail you can always return to what you know. But chances are good you'll find something new and become successful.

Young Upstarts is a business and technology blog that champions new ideas, innovation and entrepreneurship. It focuses on highlighting young people and small businesses, celebrating their vision and role in changing the world with their ideas, products and services.