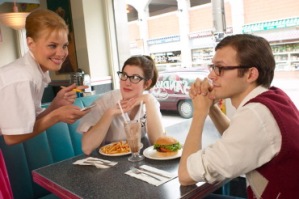 The customers are the most central part of your business. Without the customers, there is no business to speak of. That's why it's so important to ensure that you delight and enthrall them, every step of the way. We are all customers at some point, so we all know instinctively what signifies great customer service. Not only does it increase the likelihood of their return; they are more likely to advise others of your greatness. Treating the customer right is good for everybody.
Let's take a quick look at how to achieve that – first time, every time:
Offer Competitive Prices & Services.
The whole point of doing business is to be in competition with others. To show that your company can come out on top – that's why you're in this game. In order to do this, you need to pay close attention to what your rivals are doing. There are two sides to this. First, you can take on board their successful approaches. So if a competitor offers great customer service, and you can see why, you can try and emulate them. On the flipside, you can also learn from their mistakes. This is where you will really learn how to come out on top. It is a great idea to look into the negative things that people are saying about your competitors. This way, you know exactly what it is that people are after. And once you know that, you can tailor your customer service to suit their demands. That way, by the time they come to you, you are already providing exactly what they need. The same is true of pricing. Having the competitive edge is not just about undercutting the competition. It's also a matter of ensuring that what the customer is getting is fair and generous.
Be Available.
When a customer needs to speak to a member of your team, it's important that they aren't made to wait. Research shows time and again that this is a huge bugbear for the average consumer. Customers need to feel valued; that they are being listened to. So you would do well to ensure that your business offers this at a competitive rate. Use a service like Gnatta in order to ensure that your customers receive the best treatment possible. Your staff need to be willing, available and able to help your customers' every whim. This is sure to earn you a whole heap of loyalty in the long run.
Make It Easy For Them.
Ultimately, every step of the journey should be a doddle for your customer. Why should anyone have to jump through hoops just to give you their custom? This is something that many businesses struggle to bear in mind. That's a real shame, as it's the main thing you need to remember to keep your customers happy. Do everything you can to make every aspect of doing business with you a simple joy. Your customers will thank you – and your business will soon notice the difference.