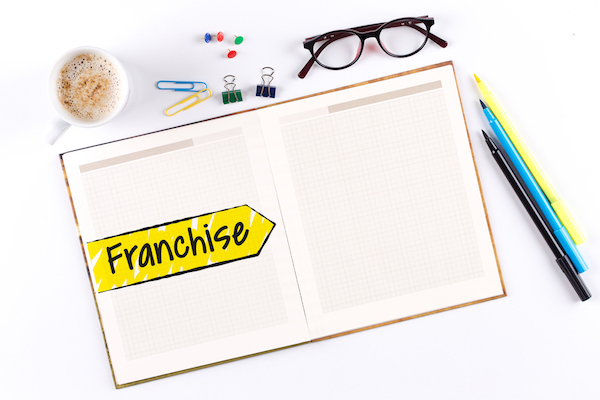 Image credit: Franchise from Shutterstock
By Brandon Moxam, Director of Brand Development at U.S. Lawns
There are numerous franchising opportunities in the U.S. With more than 825,000 franchise establishments across 300 business lines, they employ nearly 18 million people and account for one eighth of the U.S. private-sector jobs.
Whether it's access to a proven business model, the expertise and resources needed to achieve sustainable growth, or simply wanting a team of support, franchising has become an increasingly attractive option for small business owners who are looking to take their businesses to the next level.
But before candidates can decide if franchising is the right move for them, they must weigh the benefits and costs of franchising against that of a traditional business model.
Why Traditional Business Owners Transition to Franchising.
One of the most predominant reasons traditional business owners transition over to franchising is for new opportunities. It can be a lonely world out there for sole business owners. When an entrepreneur decides to start a business on his or her own it's only natural for the entire business model to be revolved around them. Instrumental decisions like hiring employees, running the day-to-day operations, and training all relies on the owner. Unfortunately, when this happens there's a higher risk for a business to either plateau or fail — making franchising a viable option. By joining a franchise, sole business owners have the ability to continue to carry out their passion while creating infrastructure to support a more profitable business.
It's also an attractive option for entrepreneurs who want access to a large network of individuals within their specific industry. When you own your own business there's usually not enough time or resources to stay up to date on the latest innovations and trends — between running the business, retaining clients, and growing your client base—which can leave your business vulnerable to falling behind. While you can attempt to acquire new information about more efficient business processes through your local competition, they're not going to be the ones to help you build a better business.
Aside from the financial and business incentives franchises offer, many small business owners go into franchising for the emotional appeal. It's ingrained in our DNA to crave a sense of belonging — people want to be a part of something bigger than themselves. When traditional business owners choose to join a franchise, they are able to create new relationships, and achieve a type of validation that many people strive for.
Likewise, those with corporate backgrounds make ideal candidates for franchising. They appreciate the franchise model because they're accustomed to having an established team in place to call for support, receive direction, or simply to bounce an idea off of. Owners with corporate backgrounds like the fact that they're still allowed to run the business, but have some level of corporate structure to rely on.
The Pros and Cons of Franchising Compared to the Traditional Business Model.
According to the Small Business Administration (SBA), 50 percent of small businesses fail within the first year, and 95 percent fail within five years. There are two main reasons why businesses typically fail — lack of capital and poor planning. While there's still risk involved with joining a franchise (i.e. investing capital and time) the risk is greatly minimized due to its proven business model. Successful franchises are successful because their processes have been replicated hundreds or even thousands of times—helping to eliminate many of the risks and challenges. And unlike that of a traditional business model where there's guesswork involved through trial and error, the franchise offers their franchisees a road map — a "how to" guide — to start, grow, and accomplish their long-term business objectives. For example, each franchisee is equipped with a time tested set of procedures to follow which include, a detailed outline about the services, information about how to hire and train a staff, how to execute the service/product, etc.
Some entrepreneurs might be skeptical of the costs associated with joining a franchise—also known as the franchise fee—but if you compare that fee to the cost of starting and running your own business, you will find that in most cases the ROI comes out higher (even with the fee). It's important to keep in mind that there are two types of revenue/profit loss when you're a small business owner. There's the tangible revenue loss due to trial and error, and also a cost associated with missed opportunity. Whether traditional business owners realize it or not, there's always missed opportunity due to mistakes in the processes (i.e. lack of capital, resources, poor standard operating procedures, marketing, or an inability to identify new business/markets). Franchises provide expert guidance that help maximize growth in a short period of time, helping you take advantage of every opportunity. 
The Role of the Franchisor and Franchisee.
A franchise has two objectives — to act as a business coach for their franchisees, and to protect and promote the franchise. Franchises take a consultative approach when working with their franchisees. They help support and provide guidance, while also making sure the franchisee has what they need for continual growth. They also provide a network of business-minded professionals that the franchisees can reach out to.
There's a common misconception that there's a power struggle between the franchise and its franchisees. However, their relationship is completely interdependent upon each other's success. And before traditional business owners transition over to a franchise, they must understand that there is a set of rules and procedures the franchise has in place. These brand standards and expectations are in place to protect the reputation of the franchise while also attracting potential customers and franchisees. The quality of service and type of services offered must be consistent across the board. Anyone who interacts with the brand in one location should have the same experience at another location. However, it is not the franchise's goal to control their franchisees — they're simply there as a support system and trusted business partner.
If you're thinking about converting your own business to a franchise, or thinking about joining a franchise, make sure you speak with local franchisees in your area about their experience. They're your best resource in understanding if it's the right move for you.
Brandon Moxam joined U.S. Lawns as Director of Franchise Recruiting in 2007 and is now Director of Brand Development. He has been instrumental in the U.S. Lawns branding development since 2012. He manages the franchise recruiting department at U.S. Lawns and works closely with potential new franchisees to fully educate them on our U.S. Lawns systems and processes that are in place to guide them to build a successful business. In addition, Brandon is a Certified Franchise Executive and is active within the International Franchise Association.