by Emma Rosser of Publicize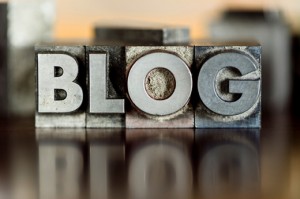 For a startup leader, it can be tough to make waves in your industry and draw attention to a new endeavor. This challenge is all the more prominent this year, with the tech industry battle for VCs, amid fears that the startup bubble could be on the brink of collapse.
Simply stating the usefulness of your product is not enough. Successful entrepreneurs should be tuned in to industry trends, and seek to become experts in their own field and be active in their community. Creating useful and interesting content for your audience through blogging is a great way engage and grab valuable attention to not only highlight your product, but also your larger mission within your industry.
44 percent of online shoppers start the process with a search engine. B2B marketers who use blogs receive 67 percent more leads than those who do not. You need to have a strong online presence in order to reach these consumers, and blogging is a great way to achieve this.
The aim of blogging is to create thought provoking material that will attract attention and ignite debate. Business founders can use this strategy to share useful information with their audience, encourage interaction and generate noise around the trends they are passionate about.
In this article five startup founders share their best tips for creating a powerful blog to help you connect with your audience:
1. Provide content that is relevant to your audience.
"I think the companies that are the most successful in creating content such as blogs are those that provide a service. This could be as simple as keeping your audience up to date with new trends in your respective industry. In the case of Alif Baa, an educational app for children, our audience are the parents. We consider what knowledge and information we have that could be relevant for them and could help them in their daily lives. There is so much noise about the ways in which technology can aid education. We aim to cut through this and provide parents with the latest and most relevant information."
– Javed Hussain, Alif Baa
2. Create a two-way dialogue.
"One of the best tools to identify with your audience is to have an active role in the community. A great blog incites a conversation. By initiating a dialogue through your blog, you begin to understand your customers better. This can help to recognize their problems, identify their needs, and to gain a much better insight of what is important to them.
Not only does this give you a great insight into your market demand, but it also allows you to continue to tailor your information. In this way, you will be able to write more pertinent content for your blog and provide useful information for them. On our blog, for example, we cover global trends in the bitcoin industry; from the latest global trends – such as China's power over the financial markets, to the latest buzz-words and trends.
The bitcoin industry can be confusing for new-comers. We use our blog to explain this industry, and to enable an overall better understanding. This way our customers are better educated, and they come to us as a source of information."
– Rupert Hackett, BuyaBitcoin.com.au
3. Educate your audience.
"Company blogs are a great way to build a brand and show your commitment towards a larger cause. At hide.me VPN it is our vision to ensure that people understand that internet security and privacy is a basic right. We use our blog to educate the larger audience about what internet security really is, and what the consequences would be if their internet privacy and security were breached.
We have divided our content into various categories, including tips on how to stay more cautious on the internet, advice on how to study the terms and conditions when providing financial data to any website, how to unblock geo-restricted websites, and many more topics designed to empower the online audience. Each of these categories shares a common focus, ensuring that internet users are educated in these challenges, and are in a better position to make decisions."
– Mohsin Ali Khan, hide.me VPN
4. Be genuine, don't try to trick your audience.
"Company blogs should contain supplementary content connected to their product that is helpful for their target audience. The goal here is to attract the attention of potential customers, and also media attention. The biggest struggle with company blogs is finding truly relevant content. On one hand, the material should be fun and informative, but on the other hand, it should be genuinely related to the company's expertise. Some companies post whatever they think can attract social interaction, regardless of the topic, and in my opinion that serves no purpose. My advice is to look for something useful and unique that you have a strong knowledge of, and look to strike a conversation.
– Alon Rajic, Finofin LTD
5. Be creative with your topics.
"DADA is a visual conversation platform in which artists and art enthusiasts can draw an image, and someone from anywhere in the world can respond with another drawing. Because we are a company about visual storytelling, we have an endless source of material from the talented users who draw on our platform.
Our blog showcases visual conversations, and trends in the art world. This includes looking at the way artists are perceived and respected, art budget cuts in education and we also celebrate new talent and successes. Our company mission is to support and encourage artists to create and thrive, and we like to feature our most accomplished artists in celebration of this. We also use our blog to communicate new features, changes to our platform and tips for users. We like to write articles that explore the intersection of art and technology, creative individuals and issues and trends in the industry."
– Yehudit Mam, DADA
A company blog taps into the idea of inbound marketing. Create a source of information that attracts your audience and keeps them coming back. The blog is a tool to share information and position company leaders as experts in their industry, so they can introduce readers to new ideas and make a splash in the industry conversation.
Bruce Rogers, Chief Insight Officer at Forbes, summarized this concept perfectly: "Thought leadership content should be informative and embody innovative and actionable components that, in time, because of their effectiveness and contributions, can become accepted industry practices."
A blog can also improve your search visibility, provide leads and convert into increased sales and a connected audience, with a longer lasting relationship. A blog can be the voice of a company, and content should be consistent, yet varied. ailor this effectively, and it can be a great instrument. Content should be consistent, yet varied.
Emma Rosser resides in Medellin, Colombia, and splits her time covering current affairs in the country with leading publication Colombia Reports and exploring trends in the tech start-up space with Publicize, a startup aiming to change the way companies approach PR.  Publicize has worked with a dozen+ Y Combinator startups and leading brands such as Hallmark Cards.