by Mauricio Prinzlau, CEO of Cloudwards.net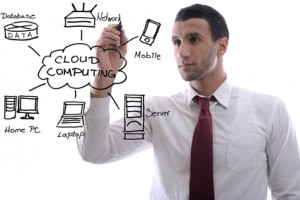 According to a Rackspace survey, it was reported that through cloud computing, small and medium businesses have increased their profits by at least 25 percent and up to 75 percent.
While there are still data security issues lingering, organizations are very hopeful about cloud computing. And why shouldn't they be? Cloud infrastructure provides easy scalability, higher flexibility and of course, lower upfront costs. This in turn helps new startups compete with their larger and established counterparts.
To help you use cloud more effectively for your startup, we have compiled together some extremely helpful tips:
1. Don't fear the cloud.
The first step is to believe in the cloud and not live in a fear of it, because that's never going to work. Yes, it can seem daunting to move your critical business data to the cloud but with cloud companies providing extremely secure servers and more and more organizations moving to the cloud, there really isn't anything to fear.
2. Public, Private or Hybrid.
Choosing the kind of cloud model you should use depends highly on your budget, the compliances your organization needs to follow and the criticality of your data.
Public – This cloud model give you great value for money. Your data in a public cloud model is hosted on a third party and the core infrastructure of the cloud is shared by other organizations as well. You pay as you go which makes this quite affordable.
Private – While public cloud does sound alluring, it has its own concerns when it comes to performance and data security. If your startup is in a highly sensitive industry like healthcare, banking or online retail, then you should opt for a private cloud model to make your data more secure.
Hybrid – If public cloud seems too vulnerable to you and private cloud is going high on expenses, you should definitely think about hybrid cloud model, which is a combination of both. So, you can keep all your confidential information on the private cloud and non-critical information on the public cloud.
3. Which service to use.
After you have decided the type of cloud model you want to stick to, it's time to decide which cloud service to use. There are many efficient services available in the market including Amazon Web Services (AWS), Microsoft Azure, Google Cloud Platform and IBM. Choosing the right cloud service will highly depend on your exact requirements.
4. Decide what applications and services you want to move to the cloud.
While the main idea is to move all your core processes to the cloud, you should start that process in parts. We would recommend starting your cloud journey with applications that do not require high availability or performance and once you are completely satisfied with it, move your core databases on the cloud. And when you are moving critical applications on the cloud that might include downtime or network outage, you should plan it out before moving forward with it.
5. Analyze the risks and benefits.
For startups, using a cloud service provider means they don't have to buy expensive servers or hire dedicated IT professionals.  You can use as much or as little cloud capacity as you would want and keep expanding as you go further. Apart from low expenditure, cloud also promises high availability of data and better collaboration with team members or employees that might be working from a different location.
Most cloud service providers like Google and Amazon also give great benefits to new startups including support, technical training and the best of all – free cloud credit.
But there are also risks involved and the biggest of them is data security. Though most of the major cloud service providers have very sophisticated cloud mechanisms, startups also have to do everything they can to protect your data. They need to make sure that the cloud service provider they are opting for, follows all the compliances needed for the industry they are in.
Final Word
Cloud computing is a great advantage to startups today and they should do everything they can to exploit that.
Mauricio Prinzlau is the CEO of Cloudwards.net, a data and user feedback driven comparison engine for cloud apps and services. He enjoys writing and producing educational videos around the cloud to help people find the best cloud service for their needs.