by Brandon Levey, CEO of Stitch Labs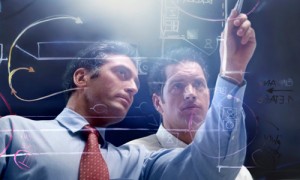 The New Year is here! You've made it through the hectic holiday season and it's now time to start planning for success in 2016.
But how can you start striving for success if you don't know definitively what success should look like for your business in comparison to your competitors?
Laying the Groundwork for Success.
The first step in effectively growing your business is to benchmark how your current sales and operational efficiencies stack up against similar companies. While establishing your 2016 business goals, wouldn't it be valuable to know how many orders your competitors processed last year? Or how many different channels they're selling through, and what eCommerce solutions they're utilizing?
To establish a competitive benchmark for your business, you must:
Determine Key Metrics – What data points are most central to your business? Focusing on key business-driving metrics like revenue, order volume, and cost of goods sold will make researching competitors and measuring success is much more clear.
Identify Competitors – No business exists in a vacuum. It's important to know who your current and future competitors are and how they're operating within the market.
Research and Assess Competitors – How are your competitors differentiating themselves in the market? What different sales channels and retail technologies are they utilizing? These are the types of questions you'll need to answer.
Leverage Benchmarking Tools – Aside from costly industry analyst reports or anecdotal trade stories, the data generally available to small and mid-sized business (SMB) retailers will not provide enough specific information for effective planning. Thankfully, free business insight tools are becoming newly available to help make the research and discovery process easier.
Develop an Actionable Plan – Once you're clear on what your competitors are doing and what changes you need to implement to drive business success, it's time to determine key goals for the year and start developing tactical plans to achieve those goals. Follow it weekly and monthly to confirm you're meeting important milestones.
Benchmarking Made Easy.
While benchmarking is easy for larger retailers who have vast resources and public companies as competitors, there are very few tools for SMB retailers to accurately assess their company's performance against similar, privately held competitive companies.
If you want to see how your company truly stacks up against SMB retail competitors, free retail amplification tools can provide you with a detailed custom report comparing your business details with that of other SMB retail companies. Now, business owners can quickly see how similar retailers are performing and identify areas of improvement for 2016.
CEO of Stitch Labs Brandon Levey holds a BSE and MSE in electrical engineering from the University of Michigan. While working on domestic nuclear security systems analyses at Sandia National Securities, he started two retail businesses on the side. Through his experiences in the design and manufacturing world, he identified many problems faced by small businesses, leading to the eventual launch of Stitch Labs.