By Kishore Kumar, CEO of AllThingsMine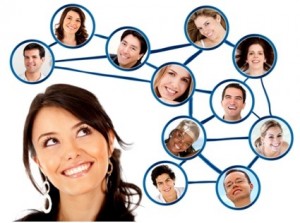 Social media recommendations induced an average of 26 percent of purchases in 2014, according to a study by Mckinsey and Company. That's up from 10 percent in 2013.
Consumers are beginning to trust social media more and more for their buying decisions. If a blogger or friend recommends a product on one of their social channels, you can click a link, view the product and make a purchase within minutes.
Gone are the days of just seeing a product in a store and buying it. Now, we want to only buy the best products based on reviews and recommendations.
Companies have to incorporate social strategies into their marketing efforts in order to compete.
Social referrals.
According to an infographic in AdWeek, 71 percent of consumers are more likely to make a purchase based on social media referrals.
If your friend or a trusted resource recommends a product, it's more likely to peak your interest than seeing just an ad for something.
We trust people over brands. So, if someone close to us gives a glowing review of a product we naturally want to check out what it is.
Companies have to find ways to encourage these types of referrals. Sometimes they happen organically and people really want to share their love of a product.
Other times, companies will pay bloggers or influencers to share their product.
Access to reviews. 
Before making a big purchase, many consumers will go online to read reviews of a product. This can include forums or independent reviews. Consumers want to make sure they are making the best decision possible before buying.
Companies must take this into consideration. If a company does not allow for reviews on their site, buyers will be suspicious.
Another strategy some companies use is giving incentives for leaving a review. This helps build up the credibility of a product.
Social Media accessibility.
If you have an Internet connection you have access to social media. It's everywhere, it's engaging and we all love it.
Social platforms are helping companies capitalize on this. In the past year Facebook, Pinterest and Instagram unveiled new buttons that let users buy products in their feeds.
By making it even easier for consumers to buy products that are recommended in their social feeds, companies will be able to profit more off of social media.
While ads can sway judgment, buyers will ultimately trust people the most. Social media and influencers offer companies a way to gain access to a greater audience, if they find the right way to harness it. Reviews and recommendations are going to become more and more important as consumers care more about buying products that are used by others and that others have enjoyed.
Kishore Kumar is a serial entrepreneur focusing on applications, cloud, mobile health, analytics and virtualization markets. Kishore was the CEO of Pari Networks recently, which was acquired by Cisco Systems in 2011. Currently Kishore is Founder at Nuviso Networks and Infore. Kishore is part of NS Angel Ventures group where he is actively investing and advising technology companies in Health/Wellness, Analytics, Cloud, Big Data, Virtualization, and Process Automation, among others.