by Gaurav Sharma, a founder of Antipull and digital strategist at Nine Hertz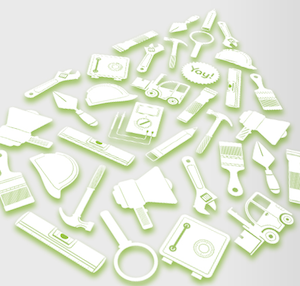 In this era, mobile applications have almost replaced the use of desktop versions. As mobile apps can be accessed anytime at anywhere, people feel more convenient with apps instead of waiting to load for a whole website. According to the recent statistics, the number of mobile apps in Android and iOS has crossed over 1.6 and 1.5 million respectively. It shows the power of mobile apps and how fast their number is growing.
For large business owner, it is not a very big deal to build an app that cost thousands of dollars. But, for small business, the price to create a mobile app is a major factor that makes it little bit typical to hire an expert mobile app developer.
If you don't want to invest much in hiring an expensive mobile app developer, then a good solution is to use the "Do-It-Yourself" app development platforms which don't need any technical skills.
This article contains 10 DIY app development tools, enabling you to craft your own mobile app in a very short span of time and within a limited budget:
1. TheAppBuilder.
TheAppBuilder offers you to create your own native mobile apps for Android, iOS and windows platform. Using the web browser, you can build the native mobile application with the basic features including photo gallery, news feed and links to the social media like Facebook, Twitter, LinkedIn etc.
Once, you complete the app development process, the tool will send a mock-up to your phone so that you can test it before publishing.
Pricing – The free version of TheAppBuilder has some restrictions in terms of ads and design. To create and upload the app to the public app store, TheAppBuilder charges for $499 excluding the app store charges.
2. Appery.
Appery is a drag and drop cloud based platform, enables you to create web, mobile and cross platform mobile apps along with the integration of back end services. The platform completely runs on the cloud which doesn't require to download and install any specific software, making the app development process very faster.
Pricing – The basic plan cost $30/mo, allowing you to create and update one app. The standard plan costs $45/month with the creation of 2 apps.
3. GoodBarber.
The best DIY native app development platform for Android and iOS, with no need of coding and designing skills. With the 9 beautiful available templates, 350 icons and 600 fonts, you can create a stunning and exclusive dream app very quickly and efficiently.
Pricing – Goodbarber offers 30 days free trial. The paid versions are available in three different plans starting with 16 €/mo with the integration of basic features.
4. AppYourself.
An easy to use DIY platform to create top quality and user friendly business applications, available with the big pool of beautiful templates. By using this platform, you can embed more than 20 features such as picture gallery, social buttons, contacts etc.
Pricing – Appyourself is available with three pricing tiers starting from the basic plan of 9,90 €/mo with 30 modules and 100 shop modules.
5. Mobincube.
With the help of Mobincube, you can easily build any kind of business app whether it is educational or entertainment. Mobincude provides a wide range of customization features allowing you to create a unique and incredible mobile app.
Recently, Mobincube has launched a new feature which allows you to create and add your own HTML elements. This added feature is very helpful for creating advanced applications like gaming, animation etc.
Pricing – The best thing about Mobincube is that it allows to create unlimited apps in its free version. The paid plans start from just worth 2.99 $/mo. The features offered are extended according to the type of plan you choose.
6. AppMakr.
Founded in 2009, AppMakr is a very popular DIY app development platform that enables you to build content based native apps for Android and iPhone. Some of the features that AppMakr provides are ad network integration, media galleries, push notifications, etc. It offers a wide variety of content inclusions such as audio, video, text, images, podcast and many more.
The editor of AppMakr allows to customize the apps in terms of icons, tabs, headers and splash screens.
Pricing – For creating HTML 5 mobile websites, AppMakr is completely free. For building native Android app, the plan cost for ₹63/mo.
7. BiznessApps.
A simple and easy to use DIY platform available with a bucket of features including dynamic content, shopping cart, push notification, third party integration and much more. The good thing about BiznessApp Is it also offers the real time preview while building the app to check the design.
It allows you to instantly update the app, without waiting for a long to get the changes approved by app stores.
Pricing – The pricing plans for BiznessApps start at $29/mo for creating mobile websites and go up to $59 for building all native mobile apps (Android/iPhone/iPad).
8. AppyPie.
AppyPie is a user friendly mobile app development platform, enabling you to create your own mobile apps for categories like games, e-book along with the easy monetization options. AppyPie has its own marketplace to publish the app which doesn't require any extra charges.
Pricing – Starting with the free plan, AppyPie goes up to the Platinum plan of $33/mo.
9. Infinite Monkeys.
Infinite Monkeys is a DIY platform allows you to generate native apps for the web, Android and iPhones. Infinite Monkeys uses the drag and drop feature to manage the location of the widgets on the screen and provides a dashboard facility to organize the analytics and messages.
Pricing – For building HTML 5 mobile websites, Infinite Monkey is fully free. The basic plan charges just $1/mo enabling you to develop a native Android app and the unlimited plan is available for $39/mo.
10. GameSalad.
Gaming application development comparatively needs more efforts than the other types of apps. But, with GameSalad, you can make the gaming app development process very easy and quick. GameSalad offers a common web based Interface for publishing cross platform gaming apps and also allows to make the changes at real time i.e. when the game is running.
Pricing – The pricing of GameSalad ranges from the basic plan of $19/mo to the Pro plan of $29/mo/.
Apart from the above DIY mobile application development platform, there are a number of other platforms available in the market. Choice of platform depends on your needs as well as the budget.
If you can think of any other DIY mobile app development platform that I missed in this article, share it in the comment section below.
Gaurav Sharma is a founder of Antipull and a digital strategist at Nine Hertz, a Mobile app development company and a Marketing – Tech writer. He has expertise in SEO, ASO, CRO, PPC and other aspects of online marketing. You can check him out on Facebook and Twitter.