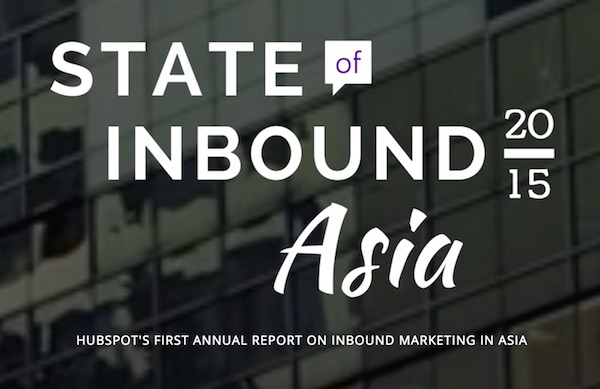 Inbound marketing service provider HubSpot recently released its first ever State of Inbound Report for Asia – which surveyed some 400 marketing and sales professionals at virtually all levels and across all industries in Asia to compile some of the most comprehensive analysis on online marketing in this part of the world.
According to the study, 3 out of 4 marketers in Asia use mostly inbound strategy, such as SEO, content creation, social media, and lead generation to drive ROI. We pored through the rest of the report and checked in with Ryan Bonnici, marketing director at HubSpot Asia Pacific & Japan – who is an experienced digital marketing leader having held roles previously at Salesforce, ExactTarget, Microsoft and Qantas Airways – to explain some of the findings.
1. Most small business owners aren't too familiar with online marketing terms. Can you explain the difference between inbound marketing and outbound marketing, and why each is important to the marketing strategy of the small business?
As we talk to marketers about how they generate leads and fill the top of their sales funnel, most say they rely on quite number of different tactics: Trade shows, seminars, email blasts to purchased lists, internal cold calls, outsourced telemarketing, and advertising.  We refer to these methods as "outbound marketing", where a marketer pushes his or her message out far and wide hoping that it resonates with that needle in the haystack.
We think outbound marketing techniques are getting less and less effective over time, for two reasons.  First, your average human today is inundated with over 2000 outbound marketing interruptions per day. Naturally, they're also figuring out more and more creative ways to block them out, using caller ID and spam filtering, for example.  Second, it has become far more convenient and cost-effective to learn about something new  (or to shop) using the internet, versus attending a day-long seminar at the Marriott or flying to a trade show in Las Vegas.
Instead, inbound marketing helps you "get found" by people already interested in, learning about and shopping in your industry.  In order to do this, you need to set your website up like a "hub" for your industry that attracts visitors naturally through search engines, blogging, and social media.
We believe most marketers today spend 90% of their efforts on outbound marketing and 10% on inbound marketing; we're advocating for a ratio flip.
2. Many of the respondents for Hubspot's State of Inbound 2015 Asia report – in fact, almost half – comes from India. Can you tell us why the number is so, and if there's a specific significance to India when it comes to the marketing activities of Indian companies?
As the second most populous country in the world and with a sizable English-speaking population, it's natural that we'd see quite a few respondents from India for our annual report. We're seeing growing interest across South- and Southeast Asia for inbound marketing strategies as businesses seek to stand out among a competitive landscape.
3. According to the report, traditional paid ads are highly overrated. How has the marketing and advertising scene changed in the past few years, and where do you see it going in the next future?
To be fair, although marketers across the board rated outbound tactics as the most overrated of all marketing tactics, that doesn't mean marketers should cut them out of their strategy completely. If it's in your budget, online outbound marketing tactics like promoted posts and PPC are actually great supplements to those more effective inbound marketing efforts. When done right, meaningful ads can play an important role in giving proven content a more prominent stage, whether it's in maximizing reach to an existing audience or launching campaigns in a new market. For example, users who are retargeted to are 70% more likely to convert. And native ads that include rich media boost conversion rates by up to 60%. And because these tactics are done online, it's easier to measure their ROI – especially if you have the right tools.
One reason online outbound tactics were rated as one of the most overrated marketing tactics under offline outbound tactics is likely because many marketers still haven't been able to measure their efforts – though current tools can help you do that much better.
4. The report also points out that demonstrating ROI is the biggest challenge for marketers. Why do you think that is so? Will that change in the coming future?
Demonstrating ROI on your marketing activities provides marketers with a way to understand the effectiveness of each particular marketing campaign, or marketing asset, even down to the post level. In addition, proving ROI often goes hand-in-hand with making an argument for an increase in budget.
On the other hand, tracking the ROI of every single marketing activity isn't always easy, especially if you don't have effective two-way communication between your marketing activities and sales reports.
This can be addressed by dedicating time and resources to establishing a strong connection between marketing activities and sales results using both marketing software and a CRM solution, and then tying them together to close the loop between your marketing and sales efforts. That way, you can directly see how many leads and customers are generated through your marketing activities.
Leading marketers also check their analytics frequently; in our survey, respondents who achieved greater ROI in 2015 than the previous year were approximately 20% more likely to check their marketing analytics more than three times per week (or have someone on their team do so). Furthermore, respondents who tracked ROI were over 20% more likely to receive higher budget than their counterparts who failed to keep tabs.
In 2016, businesses and organisations will need to put a greater emphasis on effectiveness, top-line revenue and overall engagement.
5. How do you think evolving and/or new online marketing technologies and processes will change inbound marketing in the coming year?
SEO will move beyond search engines; while Google is the undeniable king of the hill in search – with over 30 trillion pages (and growing) indexed on the web – finding what you're looking for isn't always easy. Facebook Search will also enable marketers to glean insights from any of Facebook's 2 trillion posts, though obviously excluding those hidden behind restrictive privacy settings. This makes even more sense given Facebook's dominance in mobile; as this year, more people searched for local businesses and services on mobile as compared to on a PC.
As such, brands in 2016 will likely be putting more resources towards optimizing around social media networks, so as to help future customers utilize additional avenues in finding them online.
Predictive analytics will also have major implications in marketing; a key area for us is using this insight to hone our predictive lead scoring capabilities within our product. Marketers generate dozens of leads through campaigns and lead nurturing, but not everyone is a good fit for the business. Predictive lead scoring takes the pressure off marketers by providing a lead score based on behavior, demographic, social, email, and spam detection data.
Up-and-coming technologies like virtual reality, the Oculus Rift for example, will inevitably have a huge impact on the way that marketers engage consumers in 2016 and beyond. One of the biggest keys to marketing, especially to Millennials, is personalization. With the ability to literally tell 360-degree stories, companies will be able to engage like never before.
Last but not least, keeping it very close to home, we think marketing and sales automation/acceleration technologies will continue to expand and make a much bigger impact. As more companies look to make it easier to schedule emails, segment contacts, automate social media posting, manage content, and track the lifecycle of their customers, these technologies will only continue to grow in value (and use).
6. So is content still king?
If anything, marketers will need to exercise their creative muscles a great deal more as all that content thanks to inbound marketing will lead to greater competition with keywords and search engines. Instead of posting content simply for the sake of posting, creating unique and targeted (READ: personalized) content will be essential and of greater value in attracting the right kind of leads.
7. What do you think are a small business's biggest challenge in marketing for 2016?
Whether marketing or for business growth, we see two key factors as being challenges to address for 2016: Technology and people. Having the right technologies in play can go a long way in accelerating business growth. For example, businesses that incorporate personalized inbound marketing software are more likely to see greater return on investment. This includes marketing software or CRM solutions that bring marketing and sales departments closer together.
Hiring top talent is also a key challenge; as businesses shift to newer technologies, supply isn't keeping up. It's proving difficult for companies to find ideal candidates who possess the right combination of technical, creative, and business proficiency needed for today's leading businesses. Also, the onus is on companies to clearly define business challenges and goals for new hires – as well as provide a dynamic, rewarding work environment – to attract the right talent.
8. How does that differ in Asia from the rest of the world?
Asia is one of the most mobile-first regions in the world. eMarketer estimates that there are over a billion smartphone users in Asia Pacific (out of 2.51 billion mobile phone users), with that number growing to almost 1.5 billion smartphone users (out of about 3 billion mobile phone users) by 2019. Mobile adoption is huge… and that means people are searching daily for answers to their questions. When using inbound tactics, there's a larger likelihood of "getting found" by the people doing all the searching. Better yet, because the industry is still in its infancy when it comes to inbound, companies that get in now and do it well will be in an excellent place to reap the rewards.
It is also important to bear in mind that the skillset required to do inbound marketing is definitely in limited supply across Asia Pacific. Most marketers are still transitioning out of brand-based marketing, and picking up new skills related to demand generation as well as leveraging content to attract the ideal customers to their brands. That's why we created a free online digital marketing course to help marketers in Asia Pacific transition into the content-driven paradigm.
You can download Hubspot's latest State of Inbound Report here. To learn more about inbound marketing, consider the book "Inbound Marketing: Get Found Using Google, Social Media, and Blogs", written by HubSpot co-founders Brian Halligan and Dharmesh Shah (our review of the book here).