by Nicole Lininger, Director of Corporate Communications at InventHelp®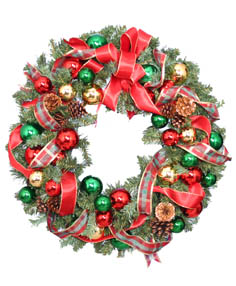 Great inventors typically don't just have one or two terrific ideas — they are always thinking of new and better products. If inventing is in your blood, chances are new ideas occur to you during your daily life as well. But the holidays aren't an ordinary time, and the change in routine can be a major distraction — or an inspiration.
Here are some tips to help you make sure your holiday season is filled with new ideas:
1. Look to holiday activities for inspiration.
Some of the most useful inventions were discovered by people who looked at familiar old tasks in a brand-new way. The pie crust shield, multi-event kitchen timer, turkey deep fryer and digital thermometer are just a few inventions that were inspired by annual holiday feasts. As you take on seasonal tasks, keep in mind that if you think there has to be a better way to get something done, there probably is — and you should invent it!
2. Maintain your curiosity and keep asking questions.
Curiosity about how things work is essential to the process of invention, and the holiday season offers many new opportunities to observe processes and use products you don't encounter the rest of the year. Tina Su of Think Simple Now advises readers to ask if there are other ways of taking on a task or achieving desired results. These are methods many inventors use to connect the dots between their interests and new ideas.
3. Don't get too comfortable.
It's a natural human impulse to seek comfort, especially around the holidays, but as Kim Kaupe, cofounder of ZinePak, says, "If you don't feel uncomfortable a few times a week, you are doing something wrong." A small amount of discomfort can lead to big new ideas, not only for inventions but for positive life changes. Leave your comfort zone behind regularly to keep your mind sharp. That will ensure you are ready to take on new topics and maintain curiosity.
4. Leverage the power of your group.
The expression "great minds think alike" might be true in some cases, but for the purposes of invention, tapping into the power of minds that think differently can be incredibly illuminating. The holidays offer a perfect opportunity to discuss new ideas with the people you encounter frequently as well as friends, relatives and business contacts you may not interact with on a regular basis. Different perspectives can lead to breakthroughs.
5. Focus on the small picture.
Big thinking is closely associated with the process of invention, but sometimes it helps to take a step back and focus on the smaller things. Cheezburger CEO Ben Huh once noted on Entrepreneur.com that innovative companies are built with small, calculated steps. The holiday season can be an excellent time to scale down your focus and use your time, budget and resources in a limited fashion to free your imagination and connect the dots between ideas.
Many people find the holiday season a welcome distraction from business as usual. That's as it should be; the holidays are an ideal time to focus on friends and family. But the change in routine can actually work to the advantage of inventors, who use new situations to develop fresh concepts. Make innovation a habit that you practice all year long — even while enjoying all the holiday season has to offer — and you may find yourself with plenty of new ideas to explore in the coming year.
Nicole Lininger is Director of Corporate Communications at InventHelp®, a leading inventor service company since 1984. InventHelp submits client's inventions, products or ideas to industry in an attempt to obtain a good faith review. For more information about InventHelp, please visit http://www.inventhelp.com or call 1-800-INVENTION.