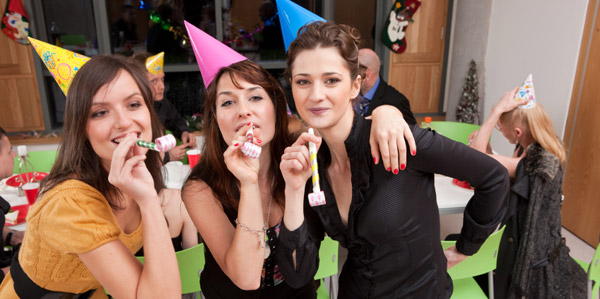 by Dusty Wunderlich, founder and CEO of Bristlecone Holdings
Company culture is an elusive ideal. The whole process of creating and maintaining culture can be nebulous, and there's no single way to develop it. Even once you've managed to establish an idea of what you want your company's culture to be, it's easy for that idea to turn stale without applying consistent, creative work to maintain it.
Our company's leaders had an unusual source of inspiration for improving the lives of our employees: reality TV.
We recently held a hugely successful challenge based on "The Biggest Loser." Two company teams competed against each other to lose the highest percentage of body fat. Throughout the 10-week challenge, teams went head-to-head in basketball, dodgeball, and flag football. This process brought the company together through a fun, uplifting experience that turned our ragtag team into a unified force to be reckoned with.
When you incorporate group activities into your employees' lives at work, it builds company culture by establishing and enhancing relationships within the organization. Through our challenge, we found these activities boosted engagement and addressed pain points across the spectrum in ways we never could have imagined.
Create Office Buzz.
Even the anticipation of a fun event can get employees talking. Group activities and challenges create a commonality among the entire team and give everyone an easy conversation topic. Some will participate in friendly trash talk, while some will offer advice and strategies for achieving the common goal you've set.
Either way, team members will be interacting in a way that involves them in the lives of their fellow employees and the culture of the company. After events, post scores and pictures around the office to encourage the laughter and memories of the day to stay alive. This allows the buzz to remain before, during, and after events.
Boost Team Morale.
Work can sometimes be fun, but it's much easier to bond with your co-workers over dodgeball than spreadsheets. After our challenge was complete, 85 percent of our employees said that our games and activities brought them closer to their work family, and 100 percent said they were happy their employer made health and fitness a priority. In the end, a happy, healthy team has been essential to maintaining a positive work environment.
If you can reach this level of employee engagement, your organization will save money by lowering absenteeism, turnover, and unproductive behavior. A Gallup study showed that companies with high employee engagement are 22 percent more profitable than those on the other end of the spectrum.
Develop a New Communication Style.
In our case, these activities instantly created a relaxed, friendly atmosphere in which each person — regardless of his position within the company — became more approachable. On the basketball court, we developed plays as a group, asked each other for help, and sought one another's talents to function as the best team possible. We cheered and high-fived one another, as well as called out faults (fouls, traveling, etc.) during the game.
We saw cheering and delegating from our games bleed over into workplace communication. Encouraging game-like communication can teach employees to hold one another accountable and accept criticism and praise from anyone in the organization. This cross-departmental collaboration encourages everyone to celebrate wins and face challenges as a unified team.
Craft Your Culture
Building culture shouldn't be a one-time effort. If you don't have the capacity to host a long-term challenge or would like to incorporate additional activities to boost company culture, try some of these techniques:
Schedule regular activities like weekly happy hours or monthly paintball outings to give employees an easy opportunity to bond outside work.
Set companywide goals, and make sure all of your employees are aware of how they can contribute to the organization's overall success. Set up fun activities or rewards to celebrate when these goals are met — and make sure to change it up every month. 
Gain some momentum for company events by building up hype and developing a solid program for employee participation. You cannot simply make a companywide announcement and expect an event or activity to spark interest; you have to develop a worthwhile program and keep the momentum alive before, during, and after the event. 
Engage your company at all levels by having both team members and company leaders present at activities and events. If you work through happy hour or are too busy for go-kart racing, you're sending the message that it's not important; others will begin to feel as though they're slacking if they attend.
If you invest time in your employees by hosting activities and events that relate to your company values, your company culture might just build itself.
Dusty Wunderlich is the founder and CEO of Bristlecone Holdings, a high-growth network of consumer and business-to-business finance platforms and financial technologies.