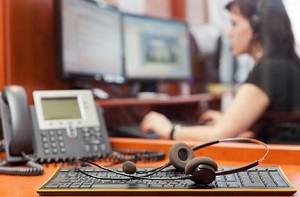 Have you ever called a company's call center to get assistance with a product, make a reservation, or get information, only to be put on hold, and then been so frustrated you move on to another company?
A Company with Callback Technology…
It happened to me recently with a major computer company, where the mechanical voice said, "due to customer calls, your wait will be approximately 15 minutes."
I was already frustrated with my computer and then add insult to injury; I had to stay on a long distance call, on my dime, for 15 minutes.
A Company that Does Have Callback Technology…
Contrast that with the cable company I use, they have a wonderful callback service. Give them a call, a polite voice comes on and tells you how to use the system, and approximately how long it will be for a return call. It is simple, efficient, and a stress release to use.
In the competitive world of cable and Internet, the company's callback service makes this company different than all the rest, and they have my business because of it.
The Callback Service.
The first effort at callback service was an attempt to move calls to off-peak hours. Customer information would be taken, but return calls were handled during the slow times for call centers. This left the customer in a vacuum, not knowing when a call would be returned, and it did little to reduce customer frustration at the expense of the company. In short, there was a callback service, but it was run more for the convenience of the call center.
In 1995, all that changed with the introduction of "Virtual Queue" to handle callback service. Virtual Queue handles the original call, gives the customer the opportunity to stay on the line, or opt for a callback service. If a callback service is requested, an approximate callback time is provided, and a callback is initiated without the customer losing his or her place in line.
The Virtual Queue callback service works, as it is client centered. It focuses on client control as they have a choice, it provides critical information, which helps to address issues of stress, and is efficient for the customer, who can carry on doing other things while waiting.
Trends in Callback Service.
Virtual Queue for callback service is well entrenched in many companies, and those that have it will be looking for ways to continue to maintain their customer experience differentiation, by looking for new and improved callback service.
Some of the things that people can expect to see are video calling, the ability to use security technology to protect customer interests, a higher standard for call center workers, growth in the use of virtual assistants to help direct customers to information that may solve their problems, and a number of other advancements, all towards differentiating a company from its competitors, while providing better service to the customers.
Conclusion.
The days are gone where customers will put up with being put on hold to have their issues addressed. Like that computer company, no matter how good their products, customer service is king, and the customer can expect bigger and better, faster and more efficient callback service as companies work to continue to differentiate their services from their competitors.