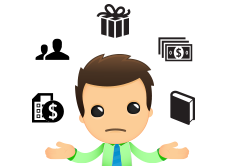 Starting and running your own business is never easy, and running a successful franchise business is a lot of hard work, but it also has the potential to be exceptionally rewarding. No matter which company you franchise or which product or service you sell, starting a new franchise venture means that you are putting your time, talent and finances behind it and during the beginning this can often feel rather overwhelming.
However, with the right preparation and planning, a solid business plan, and the right support and training, you can position your business for success.
We've put together five great tips for running a successful franchise business:
Stick to Your Business Plan.
Having a business plan and sticking to it may seem obvious, but it's surprising how many business owners fail to do so, costing them dearly down the line. A lot of business owners find that dedicating time to planning often takes a back seat over the day to day running and operations of the business. However, it's important to ensure that you set short and long term goals that you can stick to before you get too caught up in your daily routine. F
ranchisor software may also be beneficial to your planning, and companies such as Qvinci offer franchise management software to help monitor to overall financial health of a franchise. The information provided in these automated financial reports and analysis is beneficial to both the franchisor and franchisee.
Focus on Customer Service.
It's a commonly known fact that the customers are the life blood of any business, and in order to be a success you will need to ensure that your customers are satisfied. Satisfied customers make repeat visits, and will also bring in new customers by recommending your services to their friends and family. When running a successful franchise business, customer service should always be a top priority.
Accept Support.
Your franchisor will most likely offer you a wealth of business tools and support, and it's crucial that you use these if you would like your franchise to become a success. Remember, your franchisor has a lot more experience in running the same business, and is more knowledgeable about what does and does not work when it comes to that particular business' success. Help to maximise your success by signing up for any training and support offered.
Be Involved.
Successful businesses are often those that are involved in their local community, and as a franchise business owner this is a major thing that you should be looking to do. Whether you sponsor a local sports team, give talks at local events, or even donate goods and services as prizes for local charity events, getting involved and making a name for yourself in your local community will only add to your success.
Networking.
Correct networking will help to take your business to an entirely new level, and by networking with the right people you will be able to take from it a multitude of knowledge that will help you to accelerate the success of your franchise. Attend conferences and meetings with other franchise owners, and join local groups where you can meet with other entrepreneurs to discuss strategies and ideas. Don't underestimate the power of networking with your friends and family either – those closest to you are often the most willing to offer valuable support.