By Holly Stapleton, Director of Marketing at The Waterworks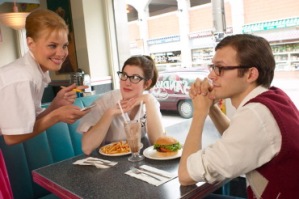 In the plumbing industry, the majority of our clients are not having the greatest day when they're calling for our services. With emergency plumbing and HVAC needs, our clients will do a quick Google search and call the company that looks the most reliable and highly rated, based on a few cursory glances.
At my company, we put special emphasis on gathering customer feedback. Getting feedback can help you improve business, retain customers and bring in future customers. In a survey by Dimensional Research, 90% of customers say their purchasing decisions are influenced by online reviews. According to Google, Google My Business listings with at least 3-star reviews or higher received 41 out of 47 clicks.
Here are a few more reasons you should put extra care into your customers' feedback, and how you can encourage customers to leave feedback.
You can improve your products and services.
"The customer is always right," the old saying goes. Whenever a customer has an issue or recommendation about some aspect of your business, you can pinpoint specific areas of improvement in your products and services. Without this vital customer feedback, you could go for years without realizing you are losing out on business for an easily solvable problem.
You can also use reviews to sustain good practices. At The Waterworks, we noticed that many customers mentioned highly positive interactions with technicians, so we thanked technicians for all their hard work and highlighted our customer service as a primary differentiator.
You can build customer relationships.
Arguably, one of the most important features of review platforms is the ability to respond to individual feedback reviews. This is true when you receive negative and positive reviews. Thank customers for taking the time to leave a review and ask how you can help an unsatisfied customer, or let a satisfied customer know that you are glad they had a good experience.
Establishing these relationships with your customers creates personality in your brand identity. This makes customers much more likely to return, and helps new customers feel safe going to your business.
You can build credibility.
When a potential customer is browsing for the right business, one of the key things they will look for is how reputable or credible your business is, based off what previous customers have recommended. On Google search, your reviews and 5-star status pop up immediately next to your business name. The more reviews and the higher your rating, the better.
A consumer survey found that 85% of consumers read up to 10 online reviews for a local business before they feel they can trust that business. If you don't even have 10 total reviews, make it a priority to get feedback on your business' social platforms!
You can increase customer engagement.
Get your customers involved in your business' brand identity! After a great interaction with a customer, ask them to take a quick moment and leave a review on your Facebook or Google+ page. Be careful not to incentivize reviews as this goes against many platforms' reviews and solicitation guidelines. If you're not sure, look over the guidelines before you ask for reviews.
A simple reminder that you value your customers' feedback is usually enough to keep your business top-of-mind. Luckily, most people love sharing stories of their experiences, so the next time they visit your page, they will be much more likely to share their feedback with you!
When you work directly with your customers, you have plenty of opportunities to ask for their help in building your brand strategy and identity. As you increase the number of positive reviews for your company, you can strengthen your business' credibility and recognition. By recognizing and focusing on the importance of your customer feedback, you can do wonders for your business.
Holly Stapleton is Director of Marketing at The Waterworks, and has over 20 years of experience in marketing and reputation management. The Waterworks has been honored as the #1 plumbing service in Columbus, and is the only company in Central Ohio to offer the combination of plumbing, restoration, and HVAC services, all under one roof.