by Solomon Thimothy, founder & Chief Executive Officer of Clickx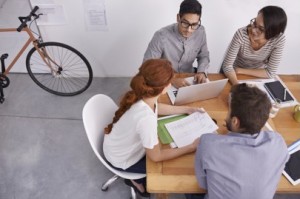 When you're starting out a business, it's difficult to keep up with everything. From day-to-day operations to growth strategies, it's difficult to know what the next move is for your business. Listening to advice from colleagues, employees and other industry professionals can be helpful but oftentimes confusing.
As a business owner myself, I know the challenges of starting out a business; hiring, selling, marketing, managing finances, the list goes on. There's so much to do and think about that it can drive you rugged. Knowing what to do next and when do to it is almost a guessing game. Staying on the right path, though, is essential to the future of your business.
Here are five tips I've learned that can help you on your journey to getting your business off the ground and on the right path.
1. Fill a Need & Differentiate Yourself.
Seth Godin, marketing guru, put it best, "Don't find customers for your products, find products for your customers." When starting out, it's important to do your homework and identify your unique value proposition. Do your research and figure out a void to fill in the market. Research competitors and identify where they fail so you can be the solution to the problem. Not only will this ensure you create a product that people want, but it will also help you position yourself in the market.
2. Laser Focus on Your Market.
Identifying your customers is key to finding to them. A laser focus on knowing who your customers are – and who aren't, is fundamental to growing your business. Work diligently to identify what your customers like, what they care about and what their challenges are. Knowing your customers like the palm of your hand is key to opening the doors to their hearts.
3. Know Your Numbers.
Sounds easy enough, but all too often young entrepreneurs become so passionate about their product or service that they forget they need to make a business out of it. From the get go, understand the costs associated with making or delivering your product or service. This key figure will help you select a price point that makes sense and turns a profit.
4. Know the Cost of Getting a Customer.
The key to growing your business is acquiring new customers. But what does it take, and cost, to get a new customer? Oftentimes business owners become obsessed with a cost per lead number. While this is a workable model, it's important to focus on the full acquisition picture. Understanding the cost of acquiring a new customer can help you reverse engineer your marketing strategy. By knowing what the ultimate cost is to get a new client, you can decide what your marketing budget is and what methods will work best within that budget.
5. Delight Your Customers.
Like a kid with a new toy, entrepreneurs frequently forget about existing customers, focusing most of their attention on getting new ones. While getting new customers is crucial, it's important to learn how to retain existing customers for life. Devote time and resources to them and show them that you have their best interest in mind. Stay in touch and listen to feedback so you can improve upon your product or service. This simple idea of delighting your customers will reap benefits beyond anything you can do on your own. After all, word of mouth is one of the best marketing methods you use. And when you build brand advocates out of your existing clients, you're sure to have new clients pouring in.
Whether you're about to embark on turning your passion or idea into a viable business or recently launched your own business, it's difficult to know what exactly your next move should be. Arm yourself with lots of patience and determination to try things out and allow your customers to guide you in the right direction. From knowing their needs to learning who they are, acquiring them and keeping them happy, keeping customers at the center of your business will make sure you stay on the right path, even when the road gets tough.
Solomon Thimothy has built his career around his passion for helping other businesses grow an online presence and thrive in the digital world. Upon discovering the importance of competing online, Solomon wanted to create a more budget-friendly solution that allows every business the chance to thrive online. It is because of this passion that Clickx was born in 2006. Clickx provides budget-friendly, scalable marketing solutions to small and medium sized businesses nationwide.