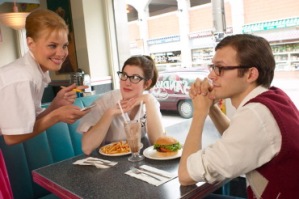 Providing great customer service is one of the most important parts of the business equation. If you want to ensure that your customers keep coming back to you with their business, you need to make sure that they can find help when they need it, that they are left alone when they want to be, and that your sales team is able to anticipate their needs so that they will feel exceedingly well attended to.
Follow these quick tips to make sure your whole team is well-versed and skilled in all of these points of customer service:
Make Sure Everyone Knows Their Responsibilities.
While every member of your business team should be ready to do whatever they can to help a customer have a good experience, it's simply the truth that there are some things that some members of the team won't be able to do. For this reason, it's extremely important that each employee understands the responsibilities of each of their colleagues. Go over specific scenarios that sales associates and customer service representatives are likely to encounter with customers and make sure they know which members of the team would be responsible for providing an answer to a question that might be outside of the representative's abilities and skill set. Consider providing each representative who interacts with customers with a written explanation of protocols for certain scenarios. For example, when to consult management and when to consult someone from another department.
Encourage your team to read books about customer service. Fully understanding the importance of meeting your customers' needs is extremely important.
Be Transparent and Be Open to Customers' Needs.
If your sales associate doesn't know the answer to a question right away, it's okay for them to admit it. The customer will appreciate their honesty and the time the associate takes to find out the right answer. This will help your customers realize that your business takes their needs and their questions seriously and that you do business in an honest and moral way.
It's also very important that your representatives understand the importance of the idea that "the customer is always right." This means that you need to really listen to what your customers are saying, you need to learn to read between the lines, and you need to be extremely accommodating. There will be times when the customer needs something but they don't really know what it is, they don't how to ask for it, they don't know how to express themselves, they are embarrassed to ask for it, or they are behaving in a difficult way. Your representatives will make an excellent impression on customers when they are able to provide patient help and extreme understanding.
Provide Excellent Customer Service Options at Every Turn.
Make sure that your customer service options are excellent in all of the ways that your customers are interacting with your company. Make sure there is always someone manning the phones and that there is always someone greeting customers at the front door and circling the floor to check on customers. Encourage your employees to establish personal relationships with your customers to make them want to return even more.
It's no secret that a lot of business is conducted online these days, so be sure your customers are having the best possible online experience when it comes to your company. You will also want to make sure that you have a fully functional website that is easy to use, intuitive to navigate, fast loading, and safe. Especially if your business operations require that customers submit personal information through your website like credit card information or passwords and usernames, make sure your website is extremely secure by having security software and/or a systems admin to monitor your website. SiteLock removes malware to keep professional websites secure and protect your customers from identity theft. It's a great way to make sure things are secure without your having to manually monitor your website, and it gives you a trust seal to display on your website to show your customers that they are browsing safely.
Be sure your company's information is correct if someone were to Google your business for more information. Have the correct business hours displayed as well as the right phone number and address. Make sure your information is accurate in other places that potential customers would use to find out more information, such as Yelp. Speaking of Yelp, if you get a bad review, respond. Reaching out to unsatisfied customers will show others that you do, indeed, care about every customer. Offer a rewards program to encourage customers to return. For example, if your business is a cafe, offer their tenth cup of coffee for free.
Know When to Automate.
If you run a larger business, you can automate many of your customer service functions, but you need to know when it's best to do so. Customers generally won't mind interacting with automated customer service for the first few steps on the phone or online, but they will likely want to speak to a human representative after they have entered in their information. Make sure you have thorough and convenient customer service and consider adding in an automatic queue function so your customers don't have to wait for ages on the phone to get help.
Providing excellent customer care is all about anticipating the customers' needs and making them feel like part of a community when they are your patrons. By following these steps, you'll ensure that you present a respectable, strong image to your customer base.